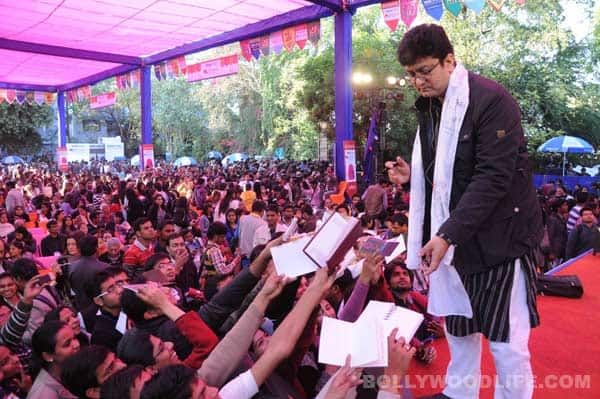 The writer-turned-adman-turned-lyricist is known for his moving poetry and heart-wrenching writing. His Maa song from Taare Zameen Par might have left us misty eyed, but the genius came up with a poetry on father's love at the coveted lit festival in Jaipur
Prasoon Joshi read out poems, sang songs,and created such a frenzy among the audience, that he was literally mobbed at the book signing session at the ongoing Japur Literature Festival. Joshi opened the session by telling everyone, how, after the movie Taare Zameen Par was released and the song Maa became popular, many fathers were upset. "I had lots of letters from dads. They told me Yeh kya hai, aapne pita ke sang anyaay kiya hai. Pita bhi pyaar karte hain apne bachchon se, and that led me to write a poem for dads," said Joshi. It was a poem so poignant that even after he finished it, the audience took a moment to applaud. But then, that should be no surprise for someone who has been writing poems since he was 15, and had a book to his name at 17! " I realised I could not make a living out of writing poetry, and so I began to write Bollywood songs," he says.
Prasoon was in Jaipur last time too, and for him, coming here has a specific purpose. "In a world where there is so much noise, here is a place where things which are murmurs of life – I call poetry murmurs of life – and in this high decibel level of noise, there is somebody giving a platform for those words that buzz in your head, want to hold discussions and hear about poetry and literature, and I think it is my responsibility to be here and talk to the people who love my work," said Prasoon and added, "This is special for me, as in I wrote Bhaag Milkha Bhaag, which is my first full Bollywood film. I mean yes, I have part-written scripts before this, but this film is mine from concept to scripting, dialogue, screenplay, songs – as a writer, it is my first complete package. And from the mails I have received from regular people, I know that now there is a curiosity to know more about my work, and people wrote to me and said they would be disappointed if I didn't come, so I came."
Prasoon maintained that he was caught up with his work, and he had to change his travel plans to accommodate JLF in his itinerary. "I have come here not as a speaker, but as a student. There are many people here whom I myself look up to. And I know that it is not like watching TV – coming here is a conscious effort, people have to make an effort, travel to come here, it is cold, but they still have to be here in the morning. So it involved a bit of sacrifice, and that proves the intent," concluded Prasoon.