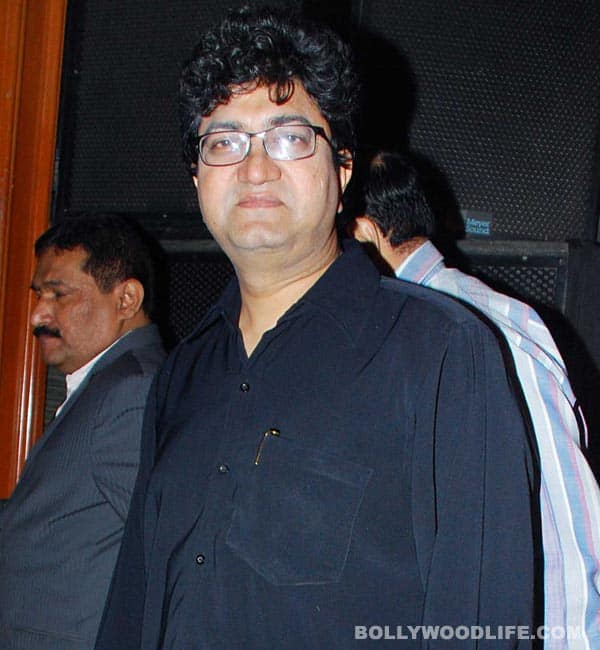 The Bhaag Milkha Bhaag writer talks about his writing process, working with Rakeysh Omprakash Mehra and his theory of why bad songwriting is here to stay
National Award winning songwriter/poet/ad-man Prasoon Joshi says creativity comes easy to him. In fact, he is proud that he can spontaneously be creative and have the lyrics flow as smooth as his songs sound, thanks to his background in advertising. It's this training that has helped him handle so many professions so successfully, he says. Now eagerly awaiting the release of his debut film Bhaag Milkha Bhaag – for which he has written the screenplay as well as the script – Prasoon tells us in an exclusive interview his views on bad songwriting, the process of writing lyrics and movies and the lessons he learned from Milkha Singh
What was it like, switching from writing songs to writing a full-fledged script?
It was challenging, but also fun and a great way to learn. When I accepted Bhaag Milkha Bhaag I did so because I saw a challenge there. As a matter of principle, I always take projects I can learn from. And I have worked on Bhaag Milkha Bhaag for three years. It's a continuous process, writing a script. There were no breaks, so to say, but I did some other work in between. But when I was writing, I did it in week-long sessions. There was a lot of fine tuning.
What is like it working with Rakeysh Omprakash Mehra?
I've worked with him on a number of projects, and I respect him as a director. We go back a long way. We're from the same fraternity – advertising – and this makes working with him very easy and exciting for me. The first time I worked with him was on RDB – I did dialogues and songs. The second time was on Delhi 6, where I again did songs and dialogues. But on this one I came in early, pretty much while the film was being conceptualised.
How did you go about writing Bhaag Milkha Bhaag?
Script writing is a continuous process. There are no real breaks. For BMB, I would write in week-long sessions. And in between the writing, you also have to discuss. It is very important to fine tune and discuss the script and the screenplay, because you never know what interesting facet you can uncover. There was also a large amount of research involved, which is a very important thing for a film of this kind, because you have to understand the time and the situation surrounding Milkha Singh. So I read about other sportsmen and that time too, and there was so much material there. The stories I uncovered and came across – they deserve a telling, but maybe later. For now, this is the story of Milkha Singh.
What sort of challenge was it writing a biopic?
When I accepted the film, I did so because I saw a challenge. And this one – I was working on it for three years. During this I got to spend a lot of time with Milkha Singh. I met him a number of times. Because writing a film story inspired from a person's life, even though it is fiction, it has to be true to his character. So yes, I spent a lot of time with him and it was very inspiring. And my observation included everything, from his personal life and relationships to the depth of the emotional relations he shared with people around him. And all of this, the research, my impressions of the person and the truth to his character was written by me over time, and discussed with Rakeysh.
What were the things you learned from Milkha Singh while writing the film?
What I learned from Milkha Singh is discipline. He is a sportsman, so discipline is embedded in him. And I think discipline for creative people is equally important. Creative people are obsessive by nature. And this sort of obsession is found among sportsmen too. That, coupled with a never say die attitude and the fact that a person makes his/her own fate – those are some of the things I learned observing the man.
As someone who has attempted both script writing and song writing, what would you say is the main difference between the two?
Songwriting is a very different thing. I can write one song now and one later tomorrow. It takes less time and is easier than writing a film. It is easier in terms of the amount of time you put in, because with films you have to give it your all for a longer time. So a song can stand on its own, while a script is something that requires a logical continuity and rewrites that go on for a period of time. For example, the title Bhaag Milkha Bhaag came about because of a reason. It is there because it means something in the film. So a film is written by arriving at such logical conclusions over a period of time, while songs are born in a much shorter time span. If you ask me what I prefer, I'd say all, because each of them, when it comes out right, gives me equal joy.
Your thoughts on the sorry state of song writing in Bollywood…
I have to say that we let the audience go scot free. Of course the creative people who write these songs shouldn't escape, but understand that the people listening to these songs also have a responsibility. The listener also has a responsibility. But again, in every era you will find good, bad, great and ugly work. Even when Sahir Ludhianvi was writing his songs, there was the riff-raff happening. In fact, we need that mediocrity because without that, how would one recognise good songs?
You recently wrote a book about the process of songwriting. Why do you feel it was important for people to know that?
The reason I wrote a book was because I was addressing those people who lament the sorry state of songwriting in our industry. I wanted them to know just how songs take shape. People shouldn't club me with that bunch that is responsible for writing such lyrics. I tried to show how the songs that are popular as well as have a certain respectability are written.
In Hollywood, script writing has evolved as an art form as is visible in their movies. What are your thoughts on the Indian script writing scenario?
That is because they (Hollywood) respect their script writers. Here it is a bad scenario. They can't make it here, the script writers. Neither do they get credit, nor the money. See the history of script writing in India. No one has ever been only a script writer. It was mostly the writer-director who wrote films. There was no writer only for films. In fact, if you see the ground reality, the last person to receive money on a project is a writer and, if the film is a hit, the last to get any credit!
You've been involved in a number of social projects as well. How do you juggle your creative and commercial pursuits?
I'm basically a communicator. Writing for me is communication. It doesn't matter where I'm using it. Be it a social cause or a song or a film or an ad, I give it my all. And I'm a master of deadlines. The advertising profession – which is my primary profession, since I consider myself an adman – teaches you to be creative, on the spot. It's hardcore training in meeting deadlines. So you can ask anyone who has worked with me about deadlines. I always beat them!
Would you consider a change of career in the near future – from writing songs and movies for others to writing and directing your own films?
I have a lot of assignments and offers. I have been approached to direct several times as well. But to be honest, a career move doesn't excite me. Turning into a director doesn't do it for me. What excites me are projects. But I do have a few ideas and I'm trying to develop them. Also, I have to spend my time very judiciously and allocate it to my passions, as I am a CEO of an ad agency. So whatever projects I take, I am very careful about them!
So do you also turn down advertising projects if you're not convinced?
I definitely do so. If I'm not convinced about a product, I don't do it. But I'm definitely not anal about it. If I don't like the promise they're selling, I refuse it. There is no hard and fast rule that way.