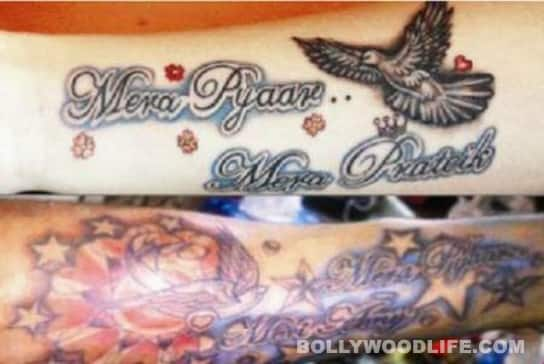 As the two get each other's names tattooed on their forearms, we wonder if it's too early to take such a drastic step
Prateik and Amy Jackson's reel love saga Ek Deewana Tha might have tanked at the box office but it looks like their real life love story is going great guns. Even though the two haven't revealed much about their clandestine affair, the pictures of their tattoos have been doing the rounds of the media circuit and social networking sites, making it quite obvious that the two are seeing each other. Obviously, they were aware of the fact that getting the tattoo would mean letting their little secret out so we guess they are now prepared to announce their relationship to the world.
It also seems like the two have been quite inspired by Saif Ali Khan. Although Saif had taken the subtle route and settled for his lover's name in devanagiri script, we think flamboyance works best for Amy and Prateik. They have opted for a more fancy and filmi tattoo with an intricate design. Amy's tattoo reads 'Mera Pyaar Mera Prateik' whereas Prateik follows suit with 'Mera Pyaar Meri Amy'.
This definitely reminds us of the good old high school days where a young couple is brimming with mush and romance. We understand that this duo is head over heels in love with each other, but isn't their tattoo just way too filmi? Who are we to judge!