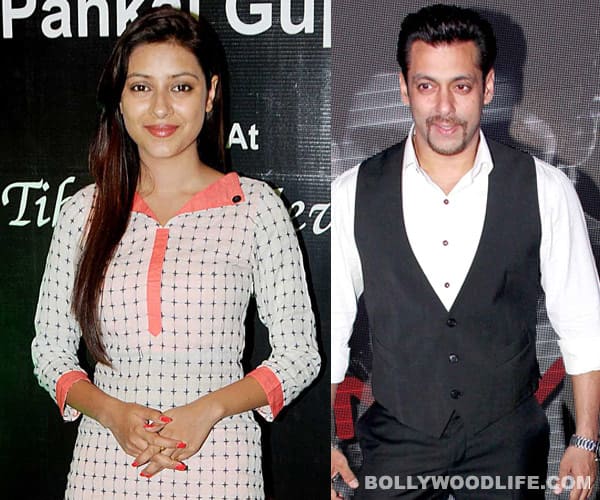 Former Bigg Boss 7 contestant who didn't seem like the Dabangg Khan's favourite is going ga ga about the superstar
Pratyusha Banerjee believes Bollywood star Salman Khan, who hosts the reality show, is its soul. The actor feels that without him, the show will not make any sense. Considering that the actor faced Sallu miyaan's wrath we are surprised that Ms Banerjee thinks so highly of the Dabangg star. It's easy to just say that Pratyusha cannot afford to take panga with the Bhai of B-town, especially since the telly star is looking for an entry in Bollywood and SK is known to be the unofficial naukri.com for Bollywood wannabes. The actor's reacted to rumours claiming Salman may not host the next season of the controversial show. During an interview, when Pratyusha was asked to name any other Bollywood actor who could take over from Salman as the Bigg Boss host, she said:" I think Bigg Boss just starts and ends with Salman Khan….Salman is the soul of Bigg Boss. If he is not there in the show, then I think Bigg Boss does not really make any sense. We all want Salman Khan to host it."
Salman joined Bigg Boss in its fourth season and hosted even its last season Bigg Boss Saath 7. However, he reportedly has refused to host its next (eighth) season. Since then, names of various other Bollywood actors are doing rounds to host the next season of this controversial show. However, superstar's reason not to host Bigg Boss is still being speculated.
Meanwhile, Pratyusha's good friend and actress Kamya Punjabi, seen in the seventh season of Bigg Boss, also wants to see Salman as the host for the show. "Although I have watched each and every season of Bigg Boss but I remember it since Khan saab (Salman Khan) started hosting it. In fact I eagerly used to wait for the weekend just to watch Khan saab's episodes of the show. So I remember 'Bigg Boss' all because of him. We all love him very much, respect him and I would always want to see him as the host for Bigg Boss, she said.
The last season of Bigg Boss affected Salman's image as he was repeatedly accused of being partial to one of the contestants, Tanishaa Mukherji. He was even criticised for repeatedly taking digs at another contestant Kushal Tandon and Gauahar Khan.