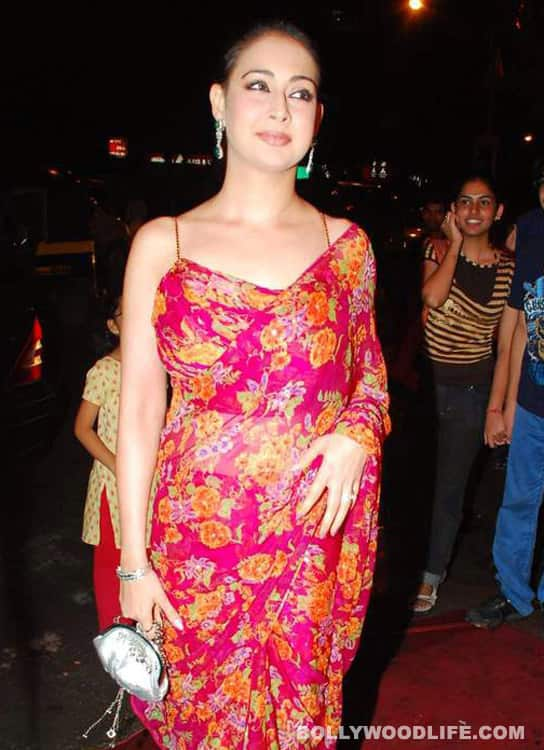 She may be in the news for showing off more than she actually intended to, but her new job as producer is what she really wants to talk about. But her underwear – or lack of it – still dominates Preeti's public image…
Sahi Dhandhe Galat Bande (SDGB), her first film as a producer, will release soon. Preeti Jhangiani shares the plans she has for her production house and the item number she really wants to be a part of.
You made a dream debut with Mohabbatein – what has the journey been like since then?
The journey' s been fabulous! I am someone who never wanted to be an actor; my family too is not connected to films at all. I was modelling just for fun and then I was selected for the Rajshri music video Chuimui si tum lagti ho. Yashji and Aditya Chopra saw that video and selected me for their film Mohabbatein. So it was just destiny. After that I've done so many films, both in Hindi and down south. I also did a Punjabi film. I've never been overly ambitious and have enjoyed every bit of my film shoots. I have met so many interesting people and have made so many friends, seen so many places I would have never visited. What can I say? It has been great!
What is easier – acting in a film or producing one?
Of course, if you ask me this question today, I would say acting is easier, but only because I've been acting for so long; it has been almost 10 years now! Production is very challenging, right from the planning to actual production, then post-production and finally the release of a film, it's a long process and one that does get you frustrated at times. As an actor I just do my job and go home, but as a producer I am the first one on the set and the last one to leave. Everything depends on me. Right from the comfort of the cast and crew to making sure all the required equipment is available on time – there is a lot to be done! Of course, a capable team is most important, but I have learnt a tremendous lot and still have so much more to learn.
You have done a lot of work in south Indian cinema. How different is it from Bollywood films?
Oh, very different! If you don't understand the language, it's so hard to emote well. But that said, I feel down south the technicians are brilliant, very hardworking – and most of their films are completed in three months flat! Even the biggest star is on the set sharp on time. It's only recently that Hindi films have started being shot on schedule and are finished faster, but most of them have at least six months' shooting schedules and their dances and songs are a bit more energetic in comparison!
What kind of films will your production house make?
Very Fishy Films wishes to make films of all kinds and genres, and it definitely promises to do so. In fact, the genre is not as important as the story and script. All our films will be script-driven and will only go into production with a complete script. The films will certainly be entertaining, but at the same time will have meaning and a soul.
Why didn't you star in your home production?
Parvin and I have not started the production house to star ourselves. An actor does not choose a script, a script chooses an actor. I will definitely star in my own production, but only if the role demands a face like mine. For this particular film, we required a fresh, bohemian kind of look and Tena Desae, our leading lady, fits in beautifully!
Do you plan to make a comeback as an actor in a home production in the near future?
I have not thought about it, but why not! But, like I said, only if me, Parvin and the entire team feels I suit the character of that particular film.
You have done an item number in a Telugu film – would you do so for Hindi films too?
Why not? I love dancing! I would love to do an item song.
There are some intimate scenes in the trailer – were you comfortable with the way they were shot?
Ha ha – first, they are not so intimate; second, as an actor I totally understand how it is on a set when you are doing such a scene. There are 100-odd crew members present. It's impossible to feel anything romantic! You have to concentrate on getting the scene right.
We heard you have a cameo appearance in SDGB, is that true?
Can't comment on that. You'll have to watch the film to find out.
Between Mohabbatein and SDGB – how much do you think Bollywood has changed?
Bollywood has undergone a sea change! Nowadays our audiences are exposed to all kinds of world cinema and they will not accept anything mediocre – our films reflect that today. Reality plays an important part in the story as well as the characters. Just five songs and a few comic scenes will not ensure a hit film. Filmmakers are ready to experiment with stories and the way films are shot…it's a very exciting time in Hindi cinema today.
Which is your most favourite character played by Parvin?
Chiraunjilal of Khosla ka Ghosla, hands down! The father-son relationship portrayed by Anupam Kher and Parvin was beautiful and very real.