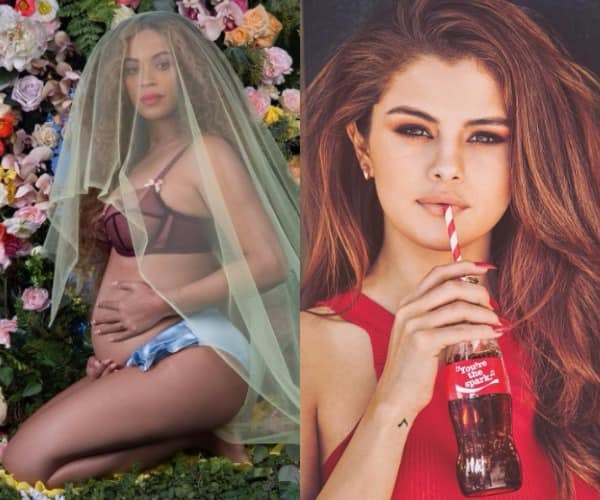 Beyonce's pregnancy post on Instagram is not only going super viral but is breaking all sorts of records! The latest one being Selena Gomez's record on Instagram! The pop diva is expecting twins and she shared this good news on social media with a gorgeous picture of hers. Flaunting her baby bump, Bey announced her pregnancy in the most sultry and fashionable way. Her post read, "We would like to share our love and happiness. We have been blessed two times over. We are incredibly grateful that our family will be growing by two, and we thank you for your well wishes. – The Carters" While everybody is congratulating the diva for her good news, Bey managed to get quite a lot of likes in such a short span of time! The image has precisely raked in 8.3 million likes on Instagram. Yep, that means Selena just got beaten by the pop diva to get the most liked post on the image sharing medium.
While Beyonce's baby bump post has received 8.4 million likes, Selena's famous Coke ad post stands tall with 6.3 million likes. As you can see, the difference is a huge margin. Gomez's this post become the most like on Instagram last year as it beat her ex-boyfriend Justin Bieber's post. It is really cool that within 24 hours, the popstar has raked in so many likes. In fact, we're still counting! There is a high possibility that the numbers are going to grow more within two more days. Perhaps she will set such a record that others may not be able to beat for a long time! You can check out both, Selena and Beyonce's much talked about posts on Instagram, below. (ALSO READ – Pregnant Beyonce goes NAKED for an underwater photoshoot – view pics)
The photo of the Single Ladies hitmaker came as a surprise as she shared this news with fans and well, public. But did you know, the diva also got an underwater professional photoshoot done for the same. Turns out Bey planned a lovely naked shoot to embrace this news. She took to her website and shared inside pictures from the shoot and believe us, it's hot to another level. The diva has never looked sexier! She has been married to rapper Jay Z and even has a daughter with him, 5 year old, Blue Ivy. The couple have even copyrighted the name of their baby girl so with the twins coming in, we're sure they have a lot of plans and eccentric names on cards for them!
What are your thoughts on this, BollywoodLifers? Tell us in the comments section below. Stay tuned to this space for hot scoop and latest updates.