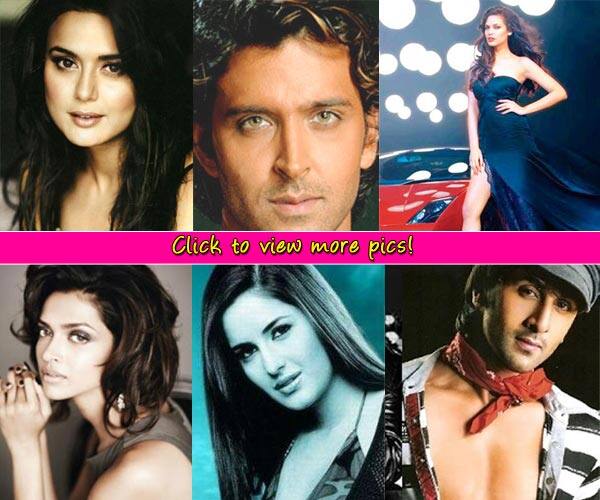 skip advertisement
With Humshakals out in the theatres, we can't help but think of B-townies with look-alikes across the world
With everyone talking about FIFA 2014, Soha Ali Khan took to Twitter to link her boyfriend Kunal Khemu with the game. How, you ask? She tweeted, "Real Humshakals: Kunal Kemmu & Brazil's Neymar @kunalkemmu @sakpataudi pic.twitter.com/eMcgAsMuHe" in this picture especially!" Along with the tweet, she posed a picture of Kunal and Neymar, in which they both look quite alike.
And with Soha's brother Saif ali Khan's film Humshakals out in the theatres, we thought of taking a look at other B-townies who have Humshakals across the world.
Esha Gupta: She plays one of the leading ladies in Humshakals and she has indeed been mistaken as a Hollywood celeb on several occasions. Esha looks a lot like Angelina Jolie and she's even posed like her in some shots.
Preity Zinta: While everyone wants to talk about the Preity-Ness war, we would rather talk about her prettiness. Preity's Hollywood Humshakal would be Drew Barrymore and Monica Bellucci. She does have the latter's face-cut, no?
Deepika Padukone: The leggy lass' dimples could be threatened by Irina Shayk's dimples. They both look alike and the comparison between the two has been talked about quite often. Strangely, both these hotties are born only a day apart in the same year! While DP celebrates her birthday on January 5, Irina celebrates it on January 6. DP's looks have also been compared to TV actor Deepa Parab and the veteran actor Waheeda Rahman.
Anushka Sharma: The pretty gal of B-town looked like Audrey Hepburn during one of her appearances at an awards function. It could be her makeup and hairdo but she did look like Hepburn, no?
Katrina Kaif: She might be a foreign import herself but now she's a B-townie. Katrina has been compared with the How I Met Your Mother actor Cobie Smulders on numerous occasions. And they do have some resemblance, no?
Parineeti Chopra: This bubbly babe of B-town has a striking resemblance to Hayden Panettiere. Check the two when they flash their pearlies. Don't you agree no?
Sonakshi Sinha: Even since this diva made her B-town debut, she's been compared to Reena Roy. Her father Shatrughan Sinha was linked to Reena Roy during his young days and lots of things were spoken about Sona and Reena. However, we must say it's just a mere coincidence, especially after looking at Sonakshi's pictures with her mother, Poonam Sinha. They both make a rather pretty mother-daughter duo.
Hrithik Roshan: He's the Greek God of B-town. But if ever you wanna see his firangi version, you must look at Bradley Cooper. Just imagine, if these hunks were to share screenspace. That'd be one hot movie, hai na?
Ranbir Kapoor: The Kapoor lad has been compared to Sylvester Stallone. The duo has a similar face-cut, don't they?
Well, there are many more B-townies with Humshakals across the globe. So BollywoodLifers, go ahead and find the others and then, don't forget to share them with us.