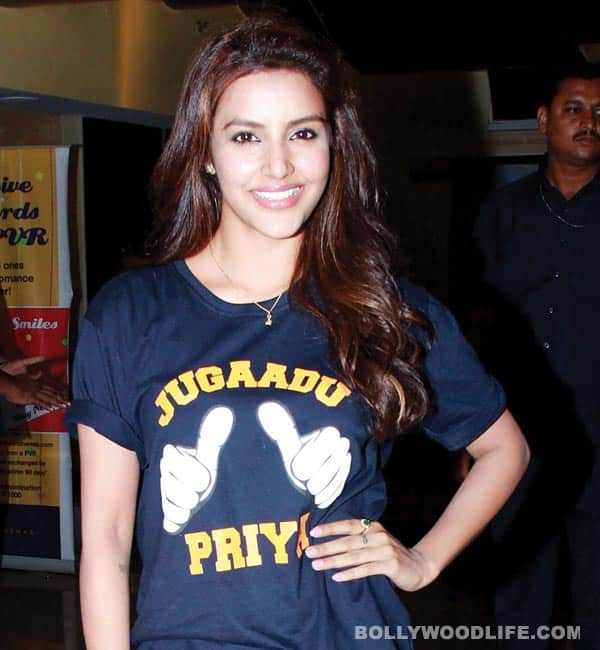 The pretty Fukrey gal talks about working as a journalist, her thoughts on Jiah Khan's suicide and acting alongside Sridevi
In English Vinglish she played a sweet young girl who helped Sridevi gain self confidence and find perspective. And in person, Priya Anand is just as sweet. Positive and with an intelligence to match, the actor has already made news down South with a slew of interesting projects. Now just as her second film in Bollywood – where she plays a character radically different to her own – releases, Priya shares how challenging it was to play a girl from a city where she has no real ties. Find out what makes the pretty Ms Anand tick…
You've lived in various cities except for Delhi, and here you are playing a true blue Delhi girl in Fukrey – what was it like getting into the skin of your character?
You know, that was the best part about Fukrey. I got to experience so many different things and places. I have had experiences of living in different cities, big and small. I have lived in Chennai and in Hyderabad, so I know how it is being from a small town. Sure I was nervous, as I had little to relate to in terms of my character – a 17-year-old girl from Subhash Nagar in Chandni Chowk who has had no real exposure. It was a challenge, but it all fit together so well with all the actors being on the same page that it became easy for me to get under her skin. It also gave me a chance to experience that fresh young love. I was grateful for that, since all the emotions I went through playing my character really had me experience that first love. Also, my director Mrigdeep is a task master, so it was fun.
You've studied journalism as well. Ever done a celeb interview?
(Laughs) I didn't get to that. I did study that in the US and how it helped me was to give me a very real insight into how things function, how the industry functions and what part do celebrities and the media play in keeping the dialogue going. So I have very realistic expectations as an actor. But yes, it's a pity I couldn't interview an actor. If I were to be a journalist for a day and interview someone, I don't know who it would be. But I do know that I would ask some really hard questions. I'd really like to call out all the celeb bluffs and ask questions that'd really make them uncomfortable! And why not, because I only have to do it for a day!
What's more fun – working in South movies or Hindi movies?
You know, I don't feel too much of a difference. Because in spite of the many differences that may exist, there is so much more that is common. So many technicians travel back and forth between the two industries. Scripts are shared, and movies are remade from Tamil or Malayalam to Hindi and vice versa. The only actual difference I've seen is in the movie promotions. In Bollywood the actors really market the movie well. In the South they don't pursue promotions so religiously. They don't show up for the audio release and things like that, while Bollywood is more serious about movie promotions.
Tell us about your experience working with Sridevi in English Vinglish….
I have adored her as a kid. One of the reasons I chose the role in English Vinglish was because I wanted to meet her and to learn from her. Because if you see, it was a small role and I doubt whether any other actor would have agreed to do it as their Bollywood debut. But for me, I was thinking that if I can act in front of an actor like Sridevi, I can act in front of anyone. And that is so true!
Who are some of the Bollywood filmmakers you want to work with?
Oh, there are so many filmmakers who are so passionate today. They all have different attributes, and their own different ways and styles. But for me, what's important is who wants to work with me. That is when an actor's confidence increases. The fact that a director sees the potential in you, and works with you to reach that level of performance. For me, that's what matters. I also don't want to be someone who is easily replaceable in a role. In that manner I want to be unique and contribute to the film in my way, so I'm hired for being me and not only as a pretty face.
As a young actor, what are your thoughts on the unfortunate story of Jiah Khan?
It has hit me really hard. I don't talk or read about it. I didn't watch it on TV or the news. She was educated and had exposure. She had been around the world. So for someone like her, who has a perfect life, it really seems so harsh. But then again, it could have been anybody. It could be me. I'm just sorry about the fact that someone decided to take such a decision. I feel bad for her family. I really empathise with her, being a young actor myself. I've also gone through highs and lows, but it's important to remember that everything is temporary. You've got to have perspective and think long term.