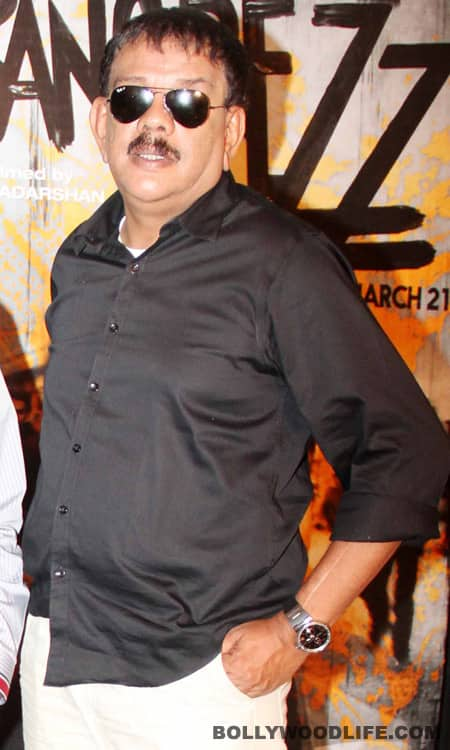 The National Award winning filmmaker talks about childhood friends, the shortcomings of Bollywood and being mortal enemies with Santosh Sivan
People say that Priyadarshan is guilty of choosing to direct only remakes of South films in Bollywood. They say he is denying Bollywood the innovations that he attempts down South. Most of his projects – be it the cult hit Hera Pheri, Bhool Bhulaiyya or even his latest film Rangrezz – have been remakes. Is Priyadarshan guilty as charged? Or is there more to the fact that a National Award winning filmmaker who has spent three decades in the movie business isn't leading from the front in Bollywood when he is doing great work elsewhere? Is he lazy? Have three decades of films made him complacent? Or has he figured out the trick to working magic on the box office and prefers to stick to that? The answers are complex, but they come without hesitation….
How did you decide to make Rangrezz?
When I saw the original film Naadodigal three years ago, I loved it. In fact, I was one of the first people to see it. The director is a friend and he really loves my movies, so he showed me the film first. Then itself I wanted to make the film, because I loved it a lot when I saw it. The subject sounds universal. It also deals with a problem that nobody has ever talked about. I wanted to make it then, but nobody was ready to invest in it, since I can't make this film with established stars. You need boys of around 20 to 25 years of age, and not people with established images. So I tried to talk to Subhashji (Ghai), and with other producers. Nobody wanted to make it. They said it was an expensive film to make with newcomers. When I came across Vashuji, he told me that his son has done couple of films. And I confess I haven't seen Jackky's films, but the moment I saw this boy, I knew he was right. He fell into that age bracket. But I didn't want him with a modern, spiked look, so I told him to grow his hair and a beard, to look like a boy you can find on the streets of Mumbai.
Why do you choose to do remakes in Hindi, as opposed to the original movies you make in Tamil, Malayalam and Telugu?
Well, I remake 80 percent of my own films in Hindi, and 20 percent have been films I like by other filmmakers. In Kerala we have a problem – we have shoestring budgets, while the immediate competitor is a Steven Spielberg film! So when I made Bhool Bhulaiyaa based on the original film, Manichitrathazhu, I wanted to make it like Bhool Bhulaiyaa, but the budgets weren't available. So when I remake films, I really enjoy them. I can realise that dream. When we make Malayalam films, we concentrate more on content than on scale; so when I come here, I already have solid content and big budgets too. So I enjoy re-making the films. Basically, I am the only one who remade Malayalam films, while most people remake Telugu or Kannada movies. The reason is that Malayalam films have only content, they don't have glamour. So when they remake Tamil and Telugu films, there is a lot of gloss and glamour. When I started doing remakes, many people questioned me. Now, 80 percent of movies are remakes! (Laughs) But at the same time, many of my own films, I cannot remake. For example, Kanchivaram – you will not be able to remake that. Those movies I made only for my satisfaction. There is no culture and no identification in Bollywood and my original films may lack commercial value. Such films are made only for one's own satisfaction.
Why?
The reason is simple: distributors and theatre owners don't want to make such films. Even a Sholay would have been a flop if it were made today. Remember, Sholay took two weeks to pick up, businesswise. If it was today, they would have changed the film. The pace is fast. There is no time for people to see a film and talk about it and make it a success. So whenever you are making a meaningful film, it slowly picks up. You can't get a Dabangg opening when you make a film, every time! But the system in Bollywood doesn't allow films much time. So if you have a great film with strong word of mouth buzz, chances are that there is a danger that on the third day the multiplexes will throw out the film. Under these circumstances, how will you make meaningful films? You can't!
But surely there must be filmmakers you like in Bollywood?
When I see films in Tamil and Malayalam, those are what I really call 'meaningful' films. Compared to that, I am not seeing that standard of filmmaking in Bollywood. Not at all. For example, I really like Neeraj Pandey – I loved A Wednesday and his recent film Special 26. But he is also standing within that commercial circle. He too is fighting with one hand behind his back!
So what is Rangrezz then? A commercial potboiler, or an experiment in making a meaningful Hindi film?
Rangrezz is a balance I am trying to keep between real cinema and commercial cinema. So you are actually compromising and making a realistic plot and treating it commercially. So this is the risk I have taken with Rangrezz. And I feel I have done justice to the film and the subject.
Tell us about working with Santosh Sivan after almost a decade…
Me and Santosh, we grew up together. We lived in the same city. We studied in different schools, but were enemies as young boys on the cricket and hockey fields! It was like that between us. We grew up together in the world of cinema as well. We made our films in the South. He was a director too for quite some time. And once in a while, when we meet to catch up, we discuss working together. So we decided to do a film together for the fun of it, because we were missing each other. Because when you work together, you can exchange 13 years worth of stories ! So it was just old friends catching up. And the best thing is, when friends respect each other, that is something very good. You are friends, but you are respecting each other, and it is a very amazing feeling.
You are still close to your old friends – how does that influence your cinema?
True. See, I don't have many personal friends in the industry. I have acquaintances. I am very close to my childhood group of friends. One thing that struck me is that two of my friends had a love marriage, and I helped them elope. So I identify with that. I have also done the same for my friends. But today's problem is not that. A friend of mine was living with a girl for the last eight years. And two years ago they got married, but in four months they got divorced! This is something happening very often. As long as you are not married, it is okay; but once you do, you start taking each other for granted. At such times people reveal their true colours. And this is a major problem today in India. So many divorces and within such a short time after marriage!