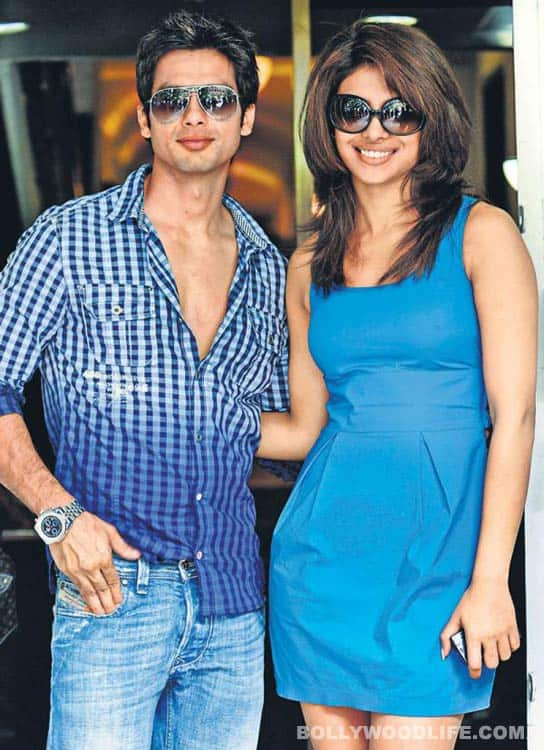 Priyanka Chopra and Shahid Kapoor had a tough time shooting a song for Teri Meri Kahani as aggressive fans and visitors tried to muscle their way in to meet the stars
When Kunal Kohli could not get permission to restrict the area of Aurangabad fort to shoot a song with Shahid Kapoor and Priyanka Chopra for Teri Meri Kahani, he decided to shoot while the fort was open to the general public. Little did he realise then the furore it will casue. As the news of Priyanka and Shahid's presence at the regular tourist spot, which on an average sees 12,000 visitors every day, spread like wildfire, more people started trickling in. Soon the number reached a threatening level of 40,000 and the situation started getting out of hand. What made the matter worse was the fact that the crew was shooting in the interior of the fort, a good 2 kms away from the nearest road. This did not go down well with the unwelcome visitors who started going berserk. Finally the local authorities stepped in and the stars and crew managed their way out of the situation.
The story doesn't end here. We hear that a few bystanders took photographs of Priyanka and Shahid at the shoot and posted them online. Teri Meri Kahaani is a period film and Kunal had been keeping the looks of his lead actors well-guarded, but now the secret is out. Kunal is obviously not happy with that, but then who can he blame anyway? Hopefully, the Hum Tum director has learnt his lesson and will think twice before undertaking such a risky endeavour again.