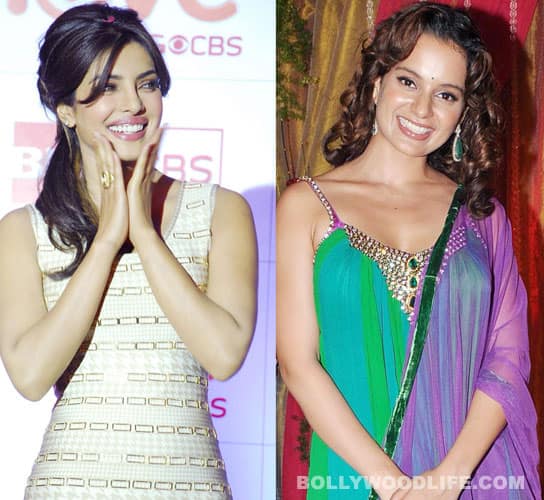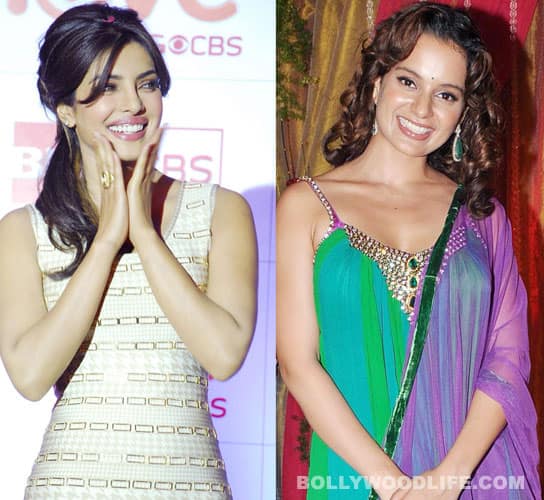 The two were spotted happily bonding at the Rascals actor's birthday bash
It's not often that you see two female actors bonding off the sets. Especially when it's not got anything to do with promoting their film. Priyanka Chopra broke that mindset last week at Kangna Ranaut's birthday party. Our li'l birdies who poke their beaks at such functions flew back to tell us excitedly that Priyanka was all smiles at the bash. The minute she entered the venue, she immediately went up to Kangna and gave her a tight hug. The two shared good vibes throughout the party.
Priyanka and Kangna first became friends when they co-starred in Fashion. Kangna had revealed then that Priyanka had given her a lot of advice on how to manage her career. Kangna had been doing very few films then and it was Piggy who had urged her to do more films and play a variety of characters. It's been a long four years since then, but their dosti is still going strong. That's something you don't get to see often, especially when the actors are contemporaries and often vying for the same roles. Looks like Priyanka and Kangna have enough respect for each other to not indulge in petty fights. Especially when they don't even have a film to promote. True, they will next be seen facing off in Krrish 3, but that's almost a year away. Thankfully, they are not like the Housefull 2 gals who've been going on about how they had a blast when they were not shooting, and how they are now good friends. Whether those friendships will survive the vagaries of the film industry, we cannot say. But wethink Piggy and Kangs' dostana has a good chance, don't you?