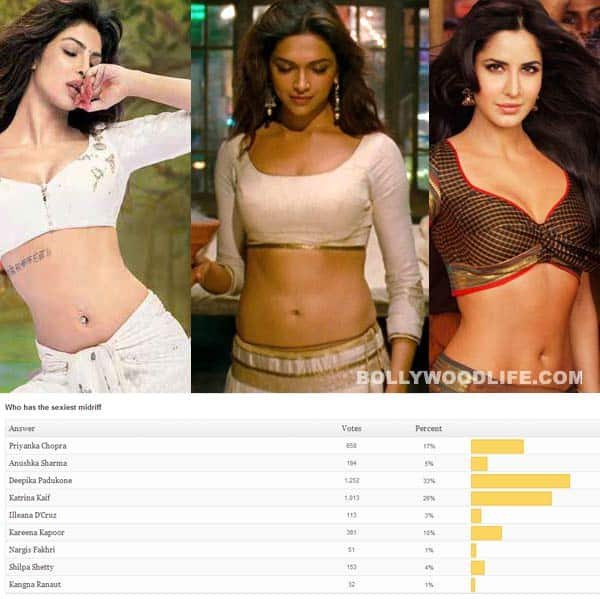 The leggy lass has been voted as the sexiest star with a killer midriff. Surprisingly-albeit shockingly in fact- Kangana Ranaut features at the bottom on the list. How do you react to our poll results, BL readers?
There's no doubt in our astutely discerning heads that Deepika Padukone has what it takes to win the sexiest midriff title. The long lady has an equally expansive and incredibly lust-worthy mid-portion errr..midriff to clinch the title. But we were surprised to see that our darling Kangana Ranaut being placed right at the bottom on the chart. And that is in spite of having enviable washboard abs, toned back and a tall frame. We must reiterate here that the poll was certainly not about the curves, even though we were looking for geometrically sound midriff.
Interestingly, Katrina Kaif stood second and Priyanka Chopra shone brightly at the third position on the chart with 26 per cent and 16 per cent votes respectively. But it was Dippy indeed who walked away with the title with a majority of 33 per cent votes. Now you know why Ms Padukone flashes her sexy midriff to get maximum attention as she twirls and twists it sexily with effortless ease in all her movies as well as in the commercials!
Ileana D'Cruz, who showcased her killer abs and najuk kamariya in Main Tera Hero bagged disappointing numbers. Nargis Fakhri meted the same fate. What shocked us to death was the fact that Shilpa Shetty, known for her killer kamariya, sexy back and fantabulous mid-portion did not manage to woo our readers much! Kareena Kapoor Khan (with a rather plump and quite cute tummy) failed to get any attention or votes from BollywoodLife enthusiasts. Bebo received only 10 per cent votes and the Bombay Velvet beauty Anushka Sharma got only 5 per cent of the total number of votes.
Take a look at the detailed report-card and tell us if BL folks, our die-hard fans and regular readers, have voted with their brains intact!