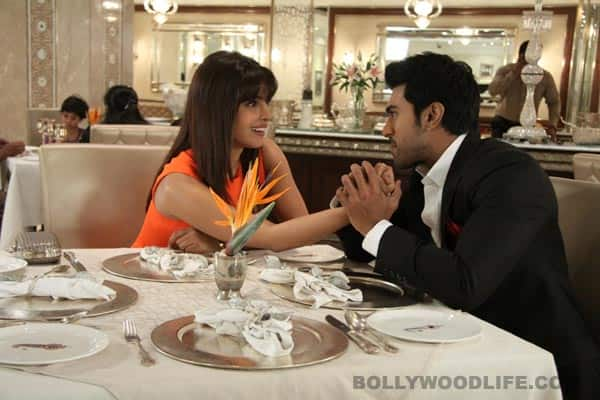 The Zanjeer actors engage in a 'betting' game on the sets to polish their language skills. Wanna know who won?
It seems that the lead actors – Priyanka Chopra and Ram Charan Teja, of Apoorva Lakhia's much-anticipated remake of Zanjeer, have found a new way to better each other's craft on the sets. Considering the film is simultaneously being shot in Hindi and Telugu, both Priyanka and Ram have accepted the challenge to master their dialogue delivery in Telugu and Hindi, respectively. Our feathered friend present on the sets informed us that both PC and RC (as they are fondly called) have been of great help to each other, and every day after pack-up, the two super-hot stars spend two to three hours brushing up their language skills. Hmm… we hope that the two concentrate only on the language and nothing else!
Our feathered friend also told us that the unit members have laid a bet of Rs 500 on the two actors as to who would forget their dialogues first i.e. Priyanka in Telugu or Ram in Hindi! So far, neither PC nor RC has made a single mistake. But don't worry dear BollywoodLifers, our loyal buddy the birdie is constantly keeping an eye on the two, and the moment we know the results, we'll let you know ASAP! Till then, keep guessing as to who do you think has high chances of winning the bet – Piggy Chops or RC?