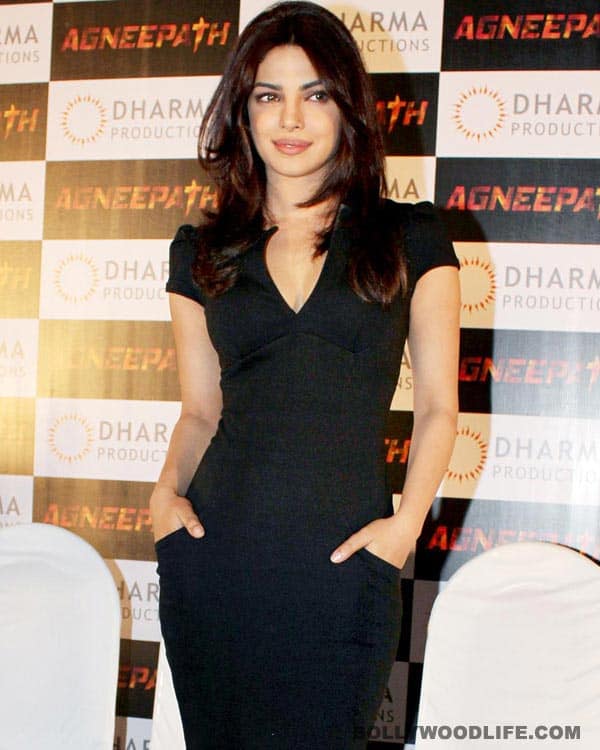 Looks like the Barfi! actor is finding it really hard to look like a human. After all, she has been tagged piggy, jungli billi and now puppy dog!
Priyanka Chopra, who is also known as jungli billi and Piggy Chops, has suddenly started resembling yet another pet animal – a puppy dog! Yup, that's true and so says the Rockstar of B-town, Ranbir Kapoor. And while pet-name calling might pass as a very cute tradition in the Bollywood industry, we couldn't help but figure why Pee Cee always ends up resembling an animal!
Piggy Chops
Heaven knows who thought Priyanka resembled a pig, but apparently someone did – perhaps Abhishek Bachchan commenting on her appetite for any food and her ability to eat without gaining weight – and that too on the sets of Bluffmaster. And since then the pet name has attached itself securely to the lady. "Right from my family, friends, fans and even the media call me 'Piggy Chops'. It's cute, it's nice, but bus yaar! I am now bored of it. I desperately want a new nickname. It will be nice to have a new one," Priyanka had grumbled a couple of years ago. And lo! She graduated to the next one.
Jungli billi
Now this pet name was tad bit better than the first. After all, anything is better than being called a pig, no? It reflected Priyanka's character in the Shahrukh Khan starrers Don and Don 2. And we guess Piggy Chops….oopsie….Priyanka liked it. And why not, we thought; it was wild and as sexy as a feline could get, right? But then there was more on the way.
Puppy dog
Now the credit for this one goes to Ranbir Kapoor, who is Priyanka's costar in the forthcoming movie Barfi!. We hear that RK found her as cute and adorable as a baby doggy. 'Awwww!' we couldn't help exclaiming, but all Pee Cee did was glare at Ranbir. And we totally understand why. After all, who likes being called animal names one after the other, right? Wink, wink.