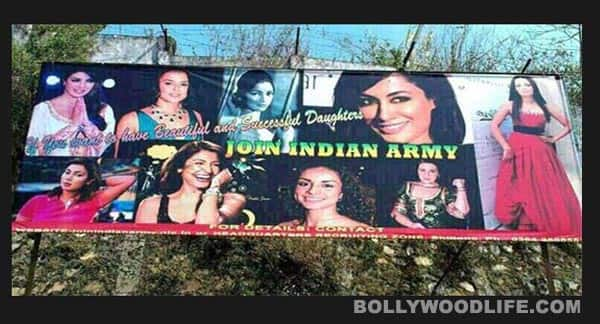 The army, in a rather obscure advertisement, uses the soft power of Bollywood to attract the youth
The army and Bollywood have always shared a connection. Bollywood has used the Indian army time and again and has called upon the men in uniform for both commercial and creative gains – from basing its movies on the soldiers to using the forces as a promotional tool and organising meetings between them and the film stars. And now, it's the army's chance to call back the favour, which they have done in a rather awkward and bizarre manner.
In a recent advertisement for recruiting officers, the Indian army has used pictures of famous Bollywood heroines. Over a rather simple and almost surreal template with some rather dated photos of actors like Priyanka Chopra, Sushmita Sen, Anushka Sharma, Preity Zinta, Nandana Sen and Gul Panag among others, screams the headline, "You want to have beautiful and successful daughters, Join Indian Army," implying that at least one parent of successful heroines is in the army!
Well, first of all, the B-town babes weren't consulted while their pictures were being put up, which is weird 'coz we're sure the pretty ladies wouldn't mind one bit helping the men in uniform. Secondly, the advertisement, with its obscure connection and shoddy editing, seems almost comical considering the premise it is based on, that one can get pretty and successful daughters on joining the Indian army. It was seen trending on Twitter and other social networking sites where netizens both criticised, made fun of and remained just plain zapped by the bizarre campaign! We now wonder what the Bollywood babes who feature in the poster are thinking!