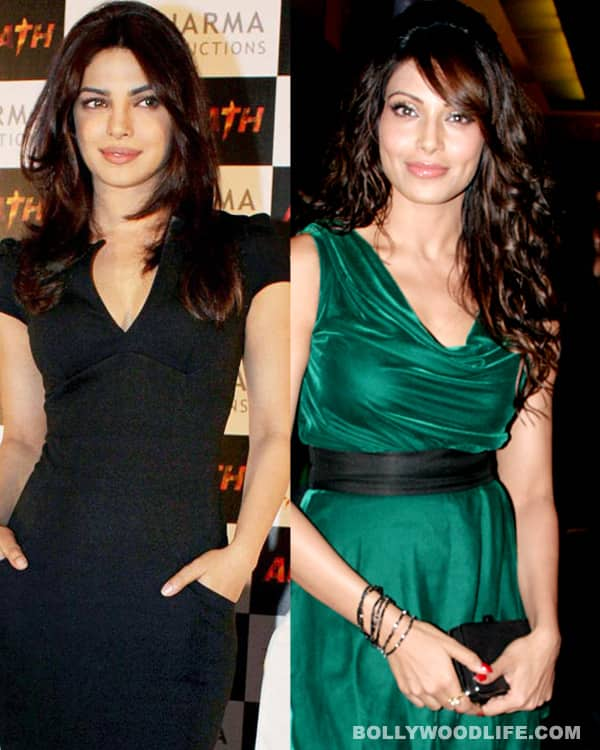 After patching up with her long time rival Kareena Kapoor recently, the Teri Meri Kahaani actor now bonds with Bipasha Basu
So what if she is not close to Shahrukh Khan any more, Priyanka Chopra is on a friendship spree with her co-actors in Bollywood. PC is making amends with every actor she ever had issues with and the most recent B-town star who found her name on Priyanka's friendship list is Bipasha Basu.It all started when Priyanka turned up at Karan Johar's 40th birthday bash, where the dusky actor was seen chatting with KJo. At the same do Priyanka mingled with a circle of powerful star wives and social swans who, we hear, had ostracised Piggy Chops for almost year (reportedly for the actor's over-friendly equation with Shahrukh Khan). Nevertheless, PC wants to bury all the hatchets – and not in anyone's back – and be in everybody's good books now.
Recently, much to our surprise, Priyanka landed on the sets of Madhur Bhandarkar's Heroine – she was shooting next door, she said. Once there, Priyanka decided to meet her Fashion director and Kareena. She spent 25 minutes on the sets and was seen chatting with Bebo. And if that was not enough, Piggy Chops is now bonding with Bipasha Basu. The two shared cold vibes in the past, but Priyanka wants to move on. Bips too reciprocated PC's friendly gesture with a sweet tweet. "Everyone should know u r my most favourite actress! love success and riches all for u always!" tweeted the Bong beauty about Priyanka.
At this rate, we are confident Priyanka will end up being friends with all the B-town celebs, their friends and even their uncles and aunts. Kudos to Priyanka's (over) friendly affairs!