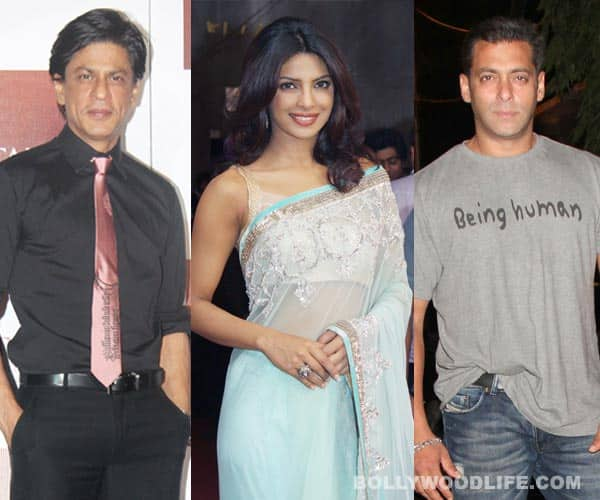 Has Priyanka shifted her loyalties from SRK to his frenemy Salman? That's the question everyone's asking ever since she was spotted coming out of Sallu's house at an unearthly hour. And we have the answer to it!
Rock chick Priyanka Chopra's ever-changing equation with stud man Salman Khan (they were good friends since the Mujhse Shaadi Karoge days, but a few years later when PeeCee's turned down Main Aur Mrs Khanna, their friendship soured) has always been under constant media scrutiny. So when tabloids splashed photographs of the Barfi! babe and the Tiger together – in conversation in the lobby area of Salman's building – we weren't surprised. And gossipmongers found fodder that would keep their fertile imagination active for a long time.
While some idle minds' say PeeCee's happy phase with Sallu miyaan is a result of her new-found friendship with the Arpita Khan, others insist the In My City singer is shifting her loyalties from her fave-costar Shahrukh Khan to his famous frenemy!
During the Barfi! promotions on a TV show, a visibly irritated Piggy Chops decided to end the speculation surrounding her equation with Salman. She says, "I have been friends with Arpita for the last seven years. I have always been to that house (Salman's Galaxy apartment), many, many times actually, to be with her. And yes that night I happened to meet Sohail (Khan) and many other people. But they (media) only get a picture of us (Salman and her). It's a cheap way of projecting what the media and paparazzi want to."
She added further, "I have done so many shows (with Salman) and met him a million times in the last two years, but projecting it in a certain way is cheap!"
Meanwhile PeeCee has been making a constant display of her affection and adulation for SRK on Twitter. Remember she publicly acknowledged the Jab Tak Hai Jaan superstar for being an inspiration for her Barfi! act? Probably, the babe is making sure that she is not projected as belonging to either of the two Khan camps.
And guess there's nothing fishy about Priyanka's dosti with either Salman or Shahrukh after all. It's all peaches and roses or so it seems!