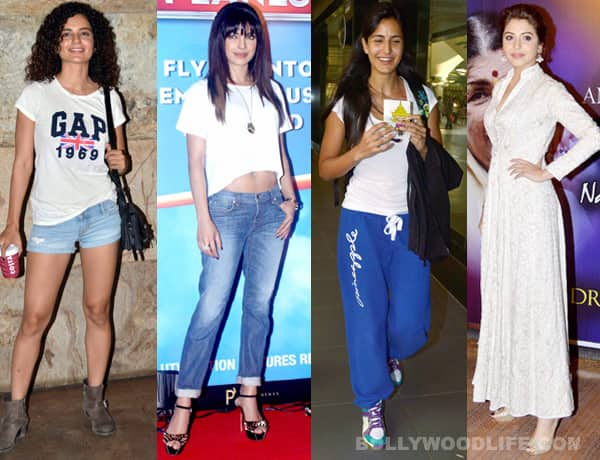 skip advertisement
The festival of colours is just around the corner. And we're sure you're as excited as we are. But like each year, it's difficult to decide what to wear, hai na? So, here's some help, directly from Bollywood
Next week it's Holi, the Hindu festival of colours. In Bollywood, this colourful festival is mostly celebrated by wearing white outfits. Considering that you all are such Bollywood fanatics, we've got you some help from Priyanka Chopra, Deepika Padukone, Katrina Kaif, Kangana Ranaut, Sonakshi Sinha, Alia Bhatt, Anushka Sharma and Kareena Kapoor Khan to dress up this Holi.
While some of you may prefer going desi on this occasion, others might like to go bold and quite a few would like something bold or casual. Well, whatever you preference, either Priyanka or Katrina, or one of the fashionistas well help you, as they've worn the plain white in sexy and stylish avatars.
Considering that there are high chances you may play Holi with water, shorts are a good option. Kangana Ranaut was spotted in light blue denim shorts and a white tee and boy, she looked hot. Of course, avoid the boots that she's wearing as they aren't meant for Holi. Quite a few of us like to keep ourselves covered so that the least amount of colour touches the skin while playing Holi, hai na? Well, we have Priyanka, Deepika and Sonakshi, who have worn white tops with denims and looked super sexy! While PC's denims were simple and she'd opted for a crop top, the other two wore simple white tees over tattered jeans. You could always do that with a pair of old jeans as most clothes worn during Holi are discarded…
But of course, denims can get really heavy if you play Holi with water. So it's certainly Katrina Kaif's look for you. The Dhoom:3 babe was spotted in blue tracks and a round-necked white t-shirt. This is certainly the most Holi-friendly outfit. We're sure you agree with us.
Holi is not a festival for western dresses. But if you are a dress person, you could wear a short dress like Alia's teamed with a pair of leggings. It would help you look stunning as always and yet be able to enjoy the festival without any worries of your dress flying a tad too high.
Of course, there will be some who would like to go desi. Anushka Sharma was seen in a lovely white Indian dress. But opt for something like this only if you want to stay away from colours. You could wear it for a Holi puja. While playing with colours, a plain white kurta over denims or leggings is a totally Holi-friendly outfit.
Though all these divas look gorgeous, do you know our pick this Holi? It's Kareena's outfit that won our hearts when she was spotted at the airport. Bebo was wearing a V-necked white t-shirt and a pair of printed pants. We love the look and it looks a very comfy outfit for Holi. While Kareena is our favourite for the festival of colours, who is your favourite, BollywoodLifers?