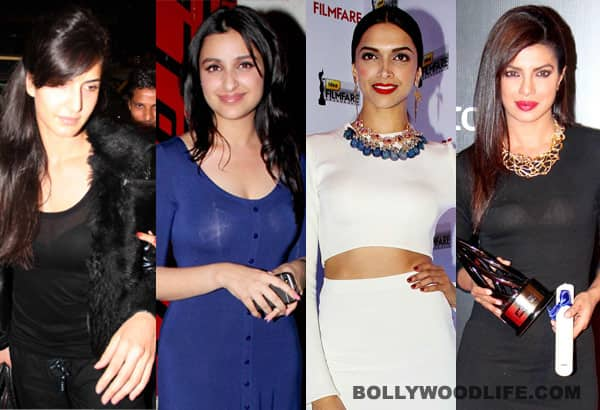 skip advertisement
All these top divas have B-town have shocked us with their appearances, once or more. While we understand when the newbies or not-so-popular actors do such gimmicks for publicity, we fail to understand why these famous faces make such fashion blunders
To err is human is rightly said. Fashion errors seem to be on a rise this year. Not so long time ago, we were shocked when a fashionista like Deepika Padukone chose an ill-fitted outfit. And now it seems like fashion blunders are spreading in Bollywood. At a recent party, Priyanka Chopra was seen in a tight-fitted black dress.
She was looking pretty with the poker straight hair and we loved her neckpiece. But as the shutterbugs went 'click click,' what we saw wasn't pleasant to our eyes. Her black Zadig et Voltaire was see-through and we could see her inner wear (certainly more than we wanted to see!).
PeeCee wasn't the only one to have made a disastrous appear recently. Deepika Padukone was seen in a white crop top and a pencil skirt by Zara. Her crop top was a tad too tight and it accentuated her bosom in an unflattering way. Tsk tsk, we certainly didn't expect this from Dippy!
What more, Priyanka's cousin, Parineeti Chopra too has such a faux pas moment less than a month ago. Pari was seen in a blue full-length dress. While the casual look wasn't all that bad, the sheer fabric did no justice to her body type. This dress certainly wasn't flash friendly and we got to see more than we expected, or even wanted to see.
While these appearances were more recent, in the past, Katrina Kaif was spotted in a black sheer-fabric tee and it was like she had put her inner wear up for display. Was it a deliberate peekaboo moment, we dunno. But it certainly wasn't a feast to the eyes.
We, at Bollywoodlife don't detest sheer fabrics. In fact, Kareena Kapoor Khan has worn sheer tops stylishly when she teamed it with a pink inner wear. However, if it's not worn rightly, it comes forth as a fashion blunder. Also, we love body hugging clothes, but not when celebs go over-the-top by wearing padded innerwear and spoiling their appearance altogether. Deepika and Priyanka top the list of our favourite fashionistas and we hope that they don't repeat such faux pas moments again! Fingers crossed!