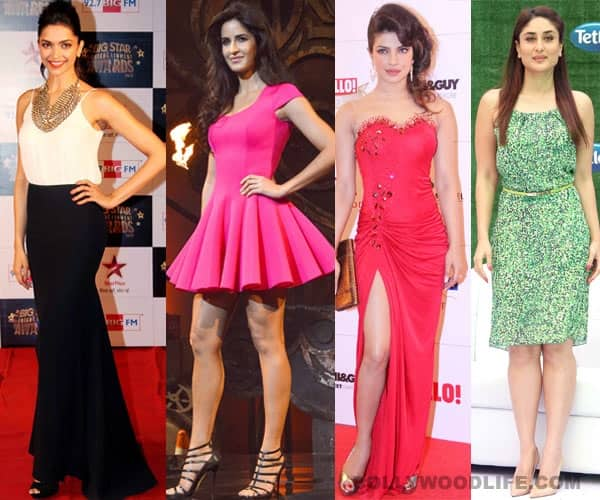 The girl child should ideally be treasured and honoured every single day. But today, January 24, is UNICEF National Day of the Girl Child. Take a look at some lovely ladies who have made their parents – and the nation – proud…
Deepika Padukone, Katrina Kaif and Priyanka Chopra may be rival heroines, but they were once sweet little girls who grew up to be famous faces in Bollywood. While there might be stark differences between them and their work, nobody can deny the fact that they have a lot in common – they are ambitious, hard working and gorgeous. Here's a look at Bollywood's best gals who made us – and their parents – very proud indeed!Deepika Padukone: The first and the only heroine to create a record that no Khan, Kumar or Khanna has managed yet. Dippy had four Rs 100 crore films last year and is working with the best of actors and filmmakers. Salman Khan cannot stop singing her praises and Shahrukh Khan has done three films (counting Happy New Year) with her. The Jai Ho star remarked at an awards function recently, "If Deepika were cast in a documentary film, the film would still do a business of Rs 200 crore!" That's some compliment!
Priyanka Chopra: Daddy's li'l princess has been taking care of mommy and little brother after her father's passed away last year. The Exotic babe has also walked a path that no Bollywood hero or heroine has ever taken, and successfully. She's now a singing sensation in the West and B-town's very own desi gal. The first Indian to make it to to the Guess brand ambassador list, PeeCee is juggling films, promotions, recording studios and international appearances. And the reel version of Mary Kom can take a racist attack with a smile and combat it with grace and poise too!
Katrina Kaif: Not every heroine can negotiate a journey from Boom to Dhoom – Katrina did it. She is as known for her link-ups as for her star power. She might lack acting skills, but she more than makes up for it as a beautiful and hardworking heroine. Her dance moves have bagged her chartbuster numbers like Sheila ki jawaani, Chikni Chameli, Kamli and many more. And yes, she did ride solo in Yash Raj's Mere Brother Ki Dulhan, despite having a Khan as co-star.
Kareena Kapoor Khan: The most gorgeous Khan in B-town, Bebo's beauty and good looks are backed with solid talent – she has surprised her fans with class acts in films like Chameli, Jab We Met and Omkara. She can play the ultimate seductress or the girl next door with ease and conviction. We love the Kapoor gal for wearing her heart on her sleeve and breaking norms – be it with films, co-stars, relationships or remuneration, Kareena has been a game changer. And she is the favourite of all three Khans!
Anushka Sharma: A Bollywood heroine who called herself 'ugly' on national television, even if she was only voicing her mentor Aditya Chopra's opinion – we don't not think that any actor in Hindi films would have dared to say so on camera. Her filmi track record puts any quibble about her looks on the back-burner. Anushka Sharma chooses films that showcase her acting prowess. She is the youngest upcoming heroine to start her own production house, long before offers from big-name studios and directors could dry up. Anushka has an interesting line-up of films – PK, Bombay Velvet and NH10 (which she is co-producing). She could be the dark horse in the race to No 1.