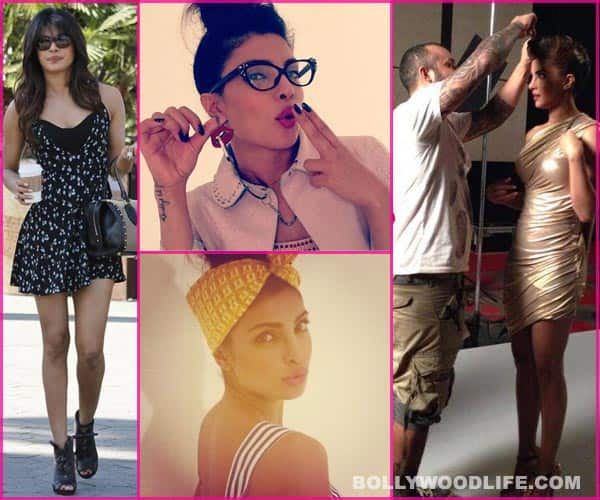 The Exotic babe has a lot on her plate, right from photoshoots to attending events in India and abroad. Let's take a look at the babe's various avatars
Priyanka Chopra is one busy girl. She's not just busy with movies but she also has numerous events to attend along with photoshoots and campaigns. Despite a tight schedule, the Exotic babe manages to look exceptionally captivating in all her appearances. How does she manage to look so fresh always is a mystery but we can't stop singing praises for the Exotic babe's recent avatars. Let's take a look!
Lovely in an LBD: Priyanka Chopra was spotted at Universal Studios in a pretty little black frock and boy, she looked so cute! With a coffee in one hand and handbag in another, Priyanka looked like a Hollywood star in this shot! We especially loved her hairdo!
The golden girl: PeeCee was spotted shooting for a print campaign in a one-shouldered golden dress and she looked sensational in the body hugging dress. Her bouffant hairstyle quite worked for her dress and all in all, the babe looked mesmerising! See for yourself!
Stripe crazy: In one of Priyanka's recent photoshoot, the babe has sported more than one striped outfit. In one of the shots, she's seen in black and white striped shorts, in another, she sports the similar hues but horizontal striped pants. She's also seen in a striped top. We don't know if she's obsessed with stripes or black and white but either ways, she looks HOT!
Smoking hot: With a bun on top of her head, donning a pair of stylish glasses, Priyanka looks smokin' hot as she strikes a pout as if she's holding a smoking stick in her hand. Don't miss her neckpiece in this one, peeps! It's a MUST SEE!
Delightful in denims: Priyanka was seen in an all denims avatar. Sporting denim shorts and a denim shirt, PeeCee looks oh-so-fab in this avatar. She's styled her hair in a side-swept braid, which makes her look like a perfect blend of a baddie and a good girl!
Last but not the least…
Pimply…err…simply beautiful: In one of Priyanka's close-up shot, we spotted a pimple on her cheek. She even looks sleep deprived in the pic. Hmmm… Ideally, no star would've posted such a pic, no? Wethinks Priyanka allowed this picture to be published on the Internet to show that though she may have reached heights but she still faces problems just like every other girl does. Smart, eh?
Out of these shots, which one do you like the best, BollywoodLifers?