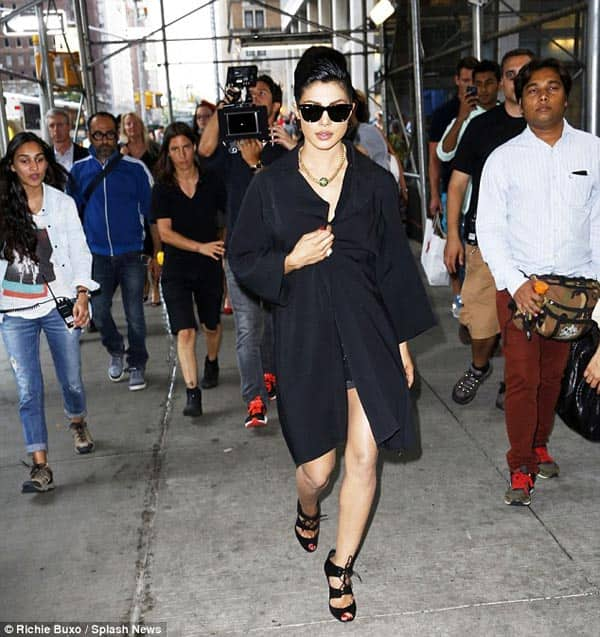 Known for carving out a niche for herself in Bollywood by pushing the envelope to play some really unconventional roles and by experimenting with her work, Priyanka Chopra is a director's delight. Why then is the Fashion actor sticking to the conventional norms of style, we wonder….
Priyanka Chopra has gone international…and how! After making her debut as a singer on In my city with will.i.am last year, the Miss World-turned-Bollywood star is now enjoying the enthusiastic response to her second solo Exotic, featuring international rap sensation Pitbull. Clearly, PeeCee is moving up the ladder fast and we are happy to see our very own desi gal making waves with her voice. Sadly, the same can't be said about her style sense which is getting increasingly stereotypical for a B-town diva who is transforming into an international pop star.
Priyanka was spotted recently on the cobbled streets of New York. The 30-year-old was in the Big Apple to shoot for a commercial for Blender's Pride – she promotes the Fashion Tour, remember? As she posed in all her innate fierceness, wearing attitude on her stylish sleeve…or lack of it…PC amazed frenzied New Yorkers who were intrigued to see the babe doing her thing. She stopped traffic with her deadly oomph and her incredible energy, even adding a dance move or two to her pretty posing.
The Fashion actor looked every bit the pop star in a miniscule jet black dress with a draped neckline and very high hemline. PeeCee's ceaselessly long and toned legs added that essential edge to the look. A pair of sunglasses and an over-sized black coat heightened the drama of her mysterious appearance. We also liked the bling green on the neckpiece and those fab statement earrings. Standing tall and powerful on her lace-up heels Priyanka showcased some sizzling moves as onlookers gaped at the bold and beautiful babe strutting her stuff for the cameras.
What exactly are we complaining about then? It's actually very simple. We love Priyanka and her style and sass. But, sartorially speaking, she is going the same old-same old route these days as far as her wardrobe is concerned. It seems as if she is obsessed with her 'Exotic' image. Short frocks, skirts or shorts – or even a combo – show off her looooong legs fabulously well, but the overall impression is that we have seen it before…and before that too.
We wish she would've added a dash of the colour India is known for, especially since she wants some desi tadka in all her songs, she says, adding Hindi lyrics to Exotic and thumkas to the dance video of In my city. But in this shoot, hiding behind those black glasses PeeCee looks like a clone of any other pop star, pouting endlessly for the flashbulbs. She could be a curious combination of Madonna, Lady Gaga or Kim Kardashian with her style, which would make us giggle if we weren't yawning already.
We understand the artistic constraints the commercial required, since the others in the series are also dark, mysterious and classy, but Priyanka is stuck in the same kind of style statement off-camera too, no? While we appreciate Miss Chopra for how she has created a brand of herself and taken it where no one else has gone before, we wish she would infuse a hint of colour and originality in her dress sense, just to surprise us, just like she does in her movies. Don't you think so?