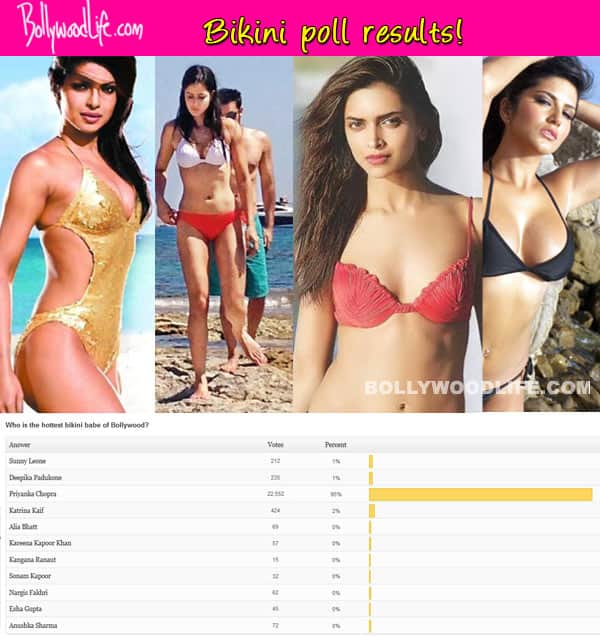 Here are the results of the recently concluded poll in which we had asked you to vote for the sexiest bikini babe in B-town
Priyanka Chopra was up against the super sexy Sunny Leone and hot babes like Deepika Padukone and Katrina Kaif, yet again. And once more, she has proven her power in B-town. The former Miss World has won the crown of the sexiest bikini babe in Bollywood. In the poll conducted by us, we received a total of 23,775 votes, out of which 22,552 votes were bagged by none other than the Exotic babe. While Priyanka accounted for 95 percent of the votes, the remaining 5 percent were distributed among the others. Far behind PeeCee was Katrina Kaif, who bagged 424 votes (2 percent). Deepika occupied the third place with 235 votes (1 percent). Surprisingly, or rather shockingly, Sunny Leone garnered only 212 votes which was barely 1 percent of the total votes!
All the other divas contesting the poll bagged less than 1 percent votes. Here's the list! Anushka Sharma bagged 72 votes. The cutie of B-town Alia Bhatt won 69 votes. Rockstar babe Nargis Fakhri won 62 votes. Kareena Kapoor Khan, Esha Gupta and Sonam Kapoor bagged 57, 32 and 45 votes respectively. Lagging behind everyone was the Queen actor Kangana Ranaut who only managed to get 15 votes! Yes, you read that right!
Well, anyways, you tell us do you agree with this poll result or not? Is Priyanka Chopra indeed hotter than Sunny Leone in a bikini?