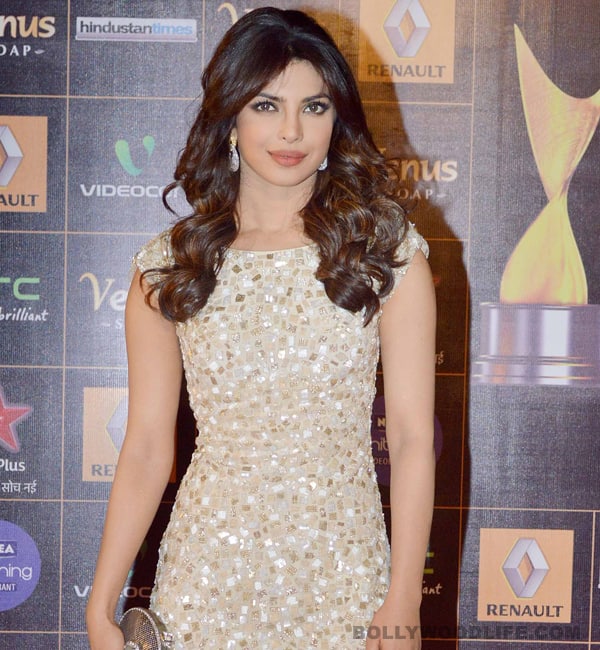 Her last film – the remake of Zanjeer – may not have done well at the box office, but Priyanka doesn't regret her role and is ready to charm her fans once again with India's most loved superhero movie franchise
She walks in as if she owns the room. Frankly, wethinks she owns not just the room but the whole office – her presence is so strong! That's Priyanka Chopra – actor, singer, international celeb and lead actor of Rakesh Roshan's much-awaited sci-fi film Krrish 3. We recently caught up PC and though we had to wait for a long while for her, it was worth every minute. She looked the perfect diva in a black leather skirt and white blouse. But what caught our attention was the fact that she had teamed the outfit up with huge gold earrings. Not everyone can pull the look off with that much élan! Though she was obviously a little unwell, PeeCee answered questions patiently. She talked about her co-star Kangna Ranaut, three super-powers she would love to posses and her Hollywood plans…
How different and how much bigger is your role in Krrish 3?
Bigger ya smaller se farak nahin padta. But it's an extension of my character. In Krrish we left the film at Krrish bringing me home and having me meet his grandmother. In this film, I am married to him. When Rakesh Roshan sir called me, he was very excited to narrate to me the film. And I knew that I would be part of the trilogy anyway, coz girlfriend ko thodi na maar sakte hain (laughs)! So I knew that I would be part of the film, but I didn't know what he was going to do with my role. But he said, 'You're going to love this role' and I actually did. Mere character mein duality hain. Mein biwi hoon and jaisi har biwi hoti hai, waise main buri bhi ban jaati hoon. So that's the beauty of the film. I am also evil in the film. Kaise, kya, kyun…that I can't reveal, but my character changes.
Could you tell us a bit more about the film…
It's basically about good vs bad. I, Krishna and Rohit (Hrithik plays a double role) we are the good people and Kaal and his army are the bad ones. Kaal is played by Vivek Oberoi and his army is called Maanvar, which is combination of humans and jaanwar. So they are mutants and there is Rhinoman, Cheetahwoman, Chameleongirl – which is Kangna Ranaut's character. So aage kya hota hai, wo toh main bata nahin sakti, but the way my character becomes evil through the film is what was interesting for me.
What was it like was it coming back to the franchise after seven years?
I loved coming back, because it's a very interesting franchise. It's a kid friendly movie and sci-fi, which as genre hasn't been explored fully in India. I remember my favourite sci-fi film was Hatimtai. So as a genre it's very new in Bollywood and Rakesh sir to me is a pioneer when it comes being a visionary. He not only envisioned something like this, but is also presenting it on a large scale. So it was great to come back to the franchise, because he had developed my character so much. In the film, Kangna, Vivek and everybody else wants me. Though I can't tell you why – you need to watch the film for that. The best part is I am not just a damsel in distress; I play a pivotal role in the film.
There are so many characters in the film. Has each been defined well?
Mere hisaab se is film ki khasiyat iska screenplay hai. Every film has five to ten characters, but usually only two of them are highlighted or given importance. But iss film mein Rakesh sir ne story ko puri tarah nibhaya hai. When people watch the film, they will find every character interesting and entertaining.
Did you face any challenges while playing this role?
It was not challenging at all. I think it was very easy (laughs). I use to sit back and think, 'Wah, aaj mujhe evil play karna hai – good!' And main apna mood change kar leti thi uss hisaab se. Besides that, this was a very fun film. Jab Hrithik Roshan action scenes karke aata tha, he use to be all sweaty and tab main AC ke samne baithi hui hoti thi and I use to laugh at him. And even used to ask him, 'Paani chahiye?'. So I had loads of fun while shooting the film
Could you tell us about your evil streak?
I can't elaborate, because then it will give away too much. I think that's something people should wait and see in the film.
Hrithik, Kangna and Vivek have action scenes. Will the audience see you doing some too?
Why do you think they are doing action – because of me, yaar! Girls create wars (laughs). In the film, I am the reason everything happens. For me, it was very interesting to be a part of such an intense, big action film. And there was nothing like two actors having catfights on the sets. There was a stupid report in the paper. I mean why would be I threatened when my and Kangna's characters are completely different? I have done too many multi-starrer films. In fact, Kangna and I are actually good friends. We get along really really well. But we have only two scenes together. Usually in action films, heroines don't have much to do. But in this film our characters are so well defined and well written. So aisa nahin tha ki uska role zyada accha hai mere se.
Rakesh Roshan said that when Kangna was approached for the film, she initially said no, coz you were in it….
Koi bhi karega… because eventually I am the heroine in the film and I have been part of the franchise. Anybody else coming into the film would be worried. But I am happy Kangna did the role, coz many heroines refused to do it. By the end of it, main Rakesh sir ko bola, main hi kar deti hoon yeh role (laughs). That happened during Barfi! also. There were at least four girls who said no to the film. It happens… But I am happy Kangna saw the potential in the film, coz it's a phenomenal role that she plays. I don't know why anyone would turn it down. She gets to do action, she is part of the army and a chameleon girl, her character has so many interesting elements. So I am glad Kangna had the vision to do it. She is one of those actors who does things like that.
Was it a mistake to be in the remake of Zanjeer?
I have had a lot of films that haven't done well, but I never turn around and say any of them was a mistake. Every film has been my decision and I have done them because I decided to do them. Nobody forced me. Some work, some don't. Every film has its own destiny. So I don't think Zanjeer was a mistake.
Which three powers would you like to have if you were a super-woman?
Ek to mere paas already hai. Main multi-tasking toh karti hi hoon. So I feel I am a form of Durga (smiles). One super-power that I would definitely like to have is to be able to read people's minds. Mujhe lagta hai log kuch kehte hain aur wo sochte kuch aur hai. So to know what people are really thinking would be interesting. Also, I would love to go back in time and change a few things. So time travel would be another. Lastly, I am very lazy, so telekinesis taki ke aisa ho ki main jab ungli uthoon to remote mere pass aa jaye automatically.
If you went back in time, which one thing would you like to change?
Something like, I wore a bad outfit, change. Wardrobe malfunction, change (laughs). Little things, because I don't have any big regrets in my life; everything has sort of contributed to be me being what I am. And I like me. So I am okay!
After entering into the international music circuit, how do you plan to take it further in Hollywood? Will you do Hollywood movies as well?
For me, my music is an extension of my creativity. I am an actor, but I am a creative person too. I am handling two careers and it's difficult for me handle both of them. I am glad so far my two songs have done well, but I will take time to really settle down in my music career and hopefully my new album will be out next year. As far as Hollywood movies are concerned, agar hua to hua. I don't plan things. But I want to do things that no one has done before. I want to be a game changer. I want to make movies, I want to playback for other heroines. I don't know everything I want to do. I even want to write a book. I want to do everything possible as a creative person.
Madhur Bhandarkar is planning a sequel to Fashion. Would you be open to do the film if he offers you a role?
Is he? I didn't know that. But I will have to hear the script. It all depends on what kind of story it is.