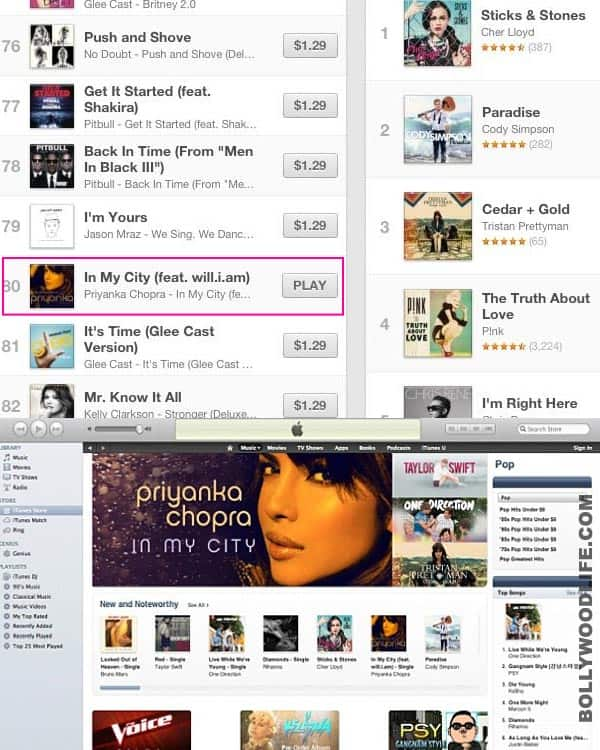 Her first single In my city made it to the top 100 on America's popular online music store immediately after its release and has been steadily rising since then
Priyanka Chopra has been getting loads of congratulatory messages from her Bollywood friends ever since her first single In my city released on ITunes yesterday. Shahrukh Khan, Farhan Akhar, Ritesh and Genelia Deshmukh, Preity Zinta and others have all been sending her text messages and Tweets.
Shabana Azmi said, "Priyanka Chopra's single is vibrant and should soon be on everyone's lips. Congratulations dear one!" In fact, Shahrukh Khan jokingly asked PeeCee to give him a discount on her music. PeeCee replied, "Very funny!! U were the first to make me sing! Chalo done! Aapke liye 25% discount! Hahahaha! Thank u."
PeeCee is now on the homepage of ITunes in the US. Her single made it to the 80th position towards the end of its release day and has been rising steadily since, up the charts. Interestingly, In My City is not available to the Indian market at the moment. So the current position of the single is solely based on the demand of the track in the American market. This is a good sign for the B-town babe. We wonder what will happen once it's available to her fans in India!
But Priyanka is not happy just being in the top 100 on the opening day. "Now can't wait to c #inmycity in top 10 inshallah!It's all U," she wrote to her fans. Well, let's hope our desi girl makes it big on the videsi music scene!