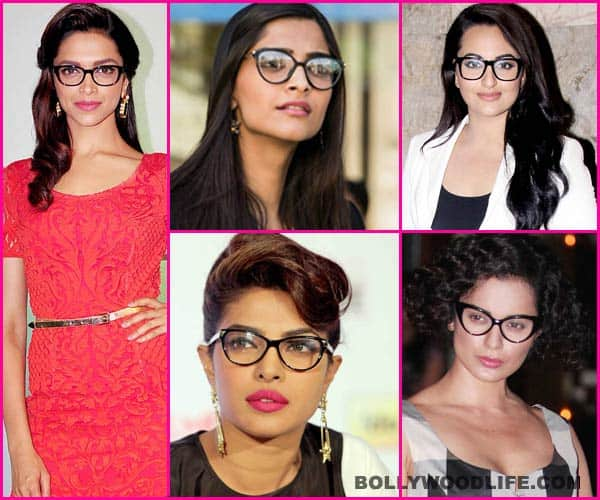 We had recently conducted a poll asking you to vote for the B-town diva who looks the sexiest while sporting nerdy classes. Well, here's your verdict
Recently, on numerous occasions, we spotted our glam girls sporting nerdy glasses. Priyanka Chopra, Deepika Padukone, Kangana Ranaut, Sonam Kapoor and Sonakshi Sinha are few of the babes who made glasses look sexy. It's like they started a new fashion trend by donning nerdy glasses. Anyways, we were quite impressed by all these actors so we asked you to help us decide who looks the sexiest with glasses on. The contestants for the sexiest nerd poll included Priyanka, Deepika, Kangana, Sonam and Sonakshi. These actors collectively received 1,061 votes. The crown of the sexiest nerd went to none other than Priyanka Chopra who bagged 441 votes, that is 42 percent of the total. Let's take a look at the votes won by the others.
Trailing behind the Exotic babe was none other than her good friend Deepika who won 38 percent votes (398 votes). The rest of the divas managed to pull in a few votes. While the Queen actor won 8 percent votes (88 votes), Sonakshi won 7 percent votes (76 votes). Though Sonam Kapoor is known as the fashionista of B-town, she bagged the least number of votes in this poll. She only got 5 percent of the votes, that is 58 votes.
Well, so Priyanka Chopra is the sexiest nerd, as so many of you voted for her. Election results can be a bit shocking or pleasantly surprising and we witnessed that recently, didn't we? Anyways, you tell us what you think about Priyanka being crowned as the sexiest nerd!