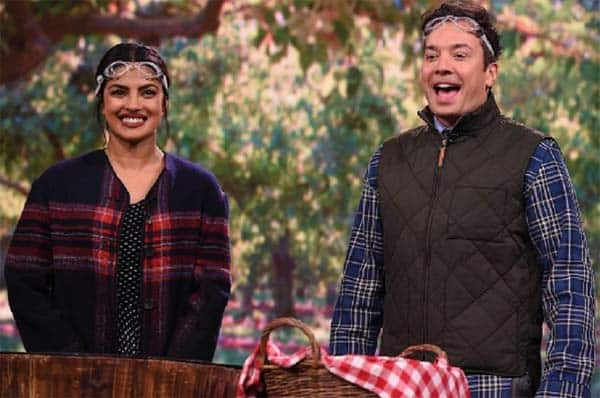 Priyanka Chopra will appear tonight on The Jimmy Fallon show and from what we saw; the actress did seem to have fun in this episode. This popular show has earlier been visited by top celebrities like Donald Trump, Hillary Clinton, Sofia Vergara and Miley Cyrus to name a few and seeing Priyanka join this elite list can just make anyone proud. The actress who did appear last year as well on this same show was much more relaxed and comfortable this time. Maybe since she was nervous for the first time and now she is well acquainted with it. The show's host Jimmy Fallon, who teased the actress 'Twirling' act at Emmy's Awards this year was as usual in his spirits. The actress looked vibrant in her black polka dot dress which was soon going to get all wet. We are sure actress didn't know what was lying ahead for her in this episode; else she would have chosen a different outfit.(Also Read: Priyanka returns on The Jimmy Fallon show looking beautiful as ever)
Last year when Jimmy challenged PeeCee for a chicken wings challenge, she emerged as the winner who ate the maximum number of wings. This year the host had some different plans for her. He was in the mood to defeat our desi gal this time but seems like his hopes got shattered. The actress took the challenge and though she didn't know what the game was all about, she emerged as the winner again. Yay!!(Also Read: This video of Priyanka Chopra twirling on Red carpet proves that she is a diva in making)
Ok so the game was about bobbing for apples. In this game, you have a huge water container filled with apples. A person has to take out an apple every single time. But mind you, there are conditions applied. You cannot use your hand. You have to immerse your face in the water, pick an apple with your mouth and throw it out. The one who gets maximum number of fruit out is the winner. So while Priyanka could pick up six, Jimmy could not pick a single one. The actress then had to teach him and it was only later that he could pick one. Priyanka who loves winning as she says, won yet another time and we are sure next time Mr Fallon will think of a tougher challenge to outdo Priyanka Chopra.
The episode which airs tonight will show you Priyanka speaking about her next season of Quantico and how the whole Emmy Awards experience was for her.
Watch the entire video below and comment on how did you find PeeCee's performance in it.