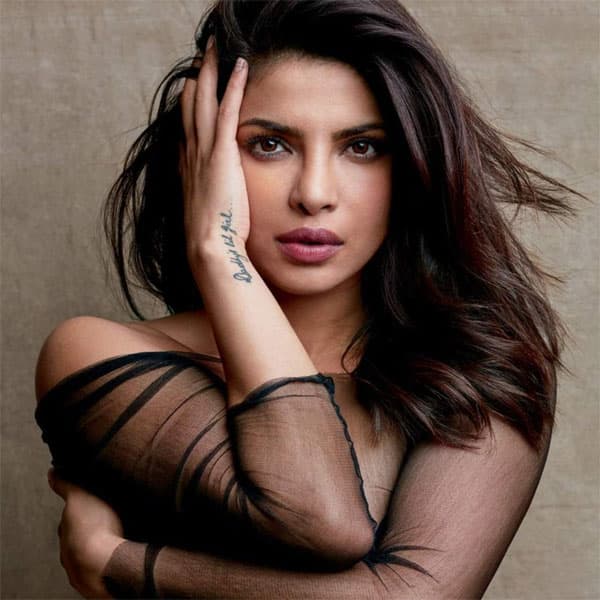 Prime Minister Narendra Modi's demonetisation has highly affected everyone and Bollywood is no exception. In fact most of the producers are planning to shift the release date as they don't want demonetisation to affect the business of their film. After erotic crime thriller Wajah Tum Ho had to push their release date, now Priyanka Chopra has postponed her first Punjabi film Sarvann. The film was slated to release on December 7, but now it has been postponed to January 2017. Yes!
Priyanka who is in Hollywood busy shooting for her thriller series Quantico 2 is also producing regional films under her production house Purple Pebble Pictures and Sarvann her first Punjabi film as a producer. PC's mom Madhu Chopra is handling the entire post production work in India. As per reports in an entertainment portal, "The makers of the film had a joint meeting where they have come to a conclusion to shift the release date by  a month due to the current economic challenges faced by all".
Priyanka's mom Madhu Chopra has even given a statement on the decision, "Considering the short term economic challenges faced by the people, we decided to shift the release date of the movie on the auspicious day of Lohri on 13th January".
We hope by January the economic condition in our country comes under control. Talking about Priyanka producing regional cinemas, her first Marathi film Ventilator released a month ago and it received fabulous response by the critics and even did a decent business at the box office.Sarvann is her second regional project after Ventilator and we hope it receives the same response.
Priyanka Chopra's this picture will make your jaw drop

Priyanka Chopra is looking smoking hot and sexy in this picture .She is one of those few who can pull off any look be it a swimwear or traditional. Add to that, her killer smile and you have got yourself a lethal combination.

Priyanka Chopra in this outfit deserves all the attention

Who can look as hot as Priyanka Chopra? She's looking extremely desirable in this outfit and we are sure many boys out there are falling for this hot and sexy actress.

Priyanka Chopra's this picture can make you go crazy

Priyanka Chopra is looking extremely hot and sexy in this Ram Leela song still. This gorgeous actress known for her charm is looking extremely hot and sexy and we are definitely waiting for her next movie outing.

Priyanka Chopra in this hot pants will soar temperatures

Priyanka Chopra's this picture is shouting HOTNESS. The Quantico actress looked extremely desirable and sexy in all her movies so far and this picture is definitely making us wish to see more of her in future.

Priyanka Chopra redefines the word HOTNESS in this photoshoot

Priyanka Chopra looks smoking hot in this outfit and please blame this actress for the sudden rise in city's temperature if any.

Priyanka Chopra redefines the word HOTNESS in this white outfit

Priyanka Chopra looks smoking hot in this white outfit and please blame this actress for the sudden rise in city's temperature if any.

Image credit: Twitter

Priyanka Chopra looks sizzling in this plunging neckline gown

Priyanka Chopra is looking smoking hot and sexy in this outfit.She is one of those few who can pull off any look be it a swimwear or traditional. Add to that, her killer smile and you have got yourself a lethal combination.

Image credit: Twitter

Priyanka Chopra in this red outfit is grabbing all eyeballs

Who can look as hot as Priyanka Choprar? She's looking extremely desirable in this red outfit and we are sure many boys out there are falling for this hot and sexy actress.

Image credit: Twitter

Priyanka Chopra's this picture can make any boy go weak at his knees

Priyanka Chopra is looking extremely hot and sexy in this photoshoot. This gorgeous actress known for her charm is looking extremely hot and sexy and we are definitely waiting for her next movie outing.

Image credit: Twitter

Priyanka Chopra in this backless gown is a sight to behold

Priyanka Chopra's this picture is shouting HOTNESS. The Quantico actress looked extremely desirable and sexy in all her movies so far and this picture is definitely making us wish to see more of her in future.

Image credit: Twitter

Priyanka Chopra is looking extremely desirable in this outfit

No one can define hotness, the way Priyanka Chopra does. She just radiates it with her movie outing, making it difficult for us to bear it everytime. She's definitely looking super hot and sexy in this particular picture.

Image credit: Facebook

Priyanka Chopra's this picture will make you drool all over

This picture of Priyanka Chopra in the wet hair is too hot to handle. The actress who is set to make her debut in Hollywood strikes a luscious pose for the camera and looks superhot.

Image credit: Google

Priyanka Chopra's this hot picture is surely a classic

Priyanka Chopra's plunging black dress in this picture is a sure headturner. The actress' bronzed skin makes her look even more sexually appealing.

Image credit: Google

Priyanka Chopra surely looks hot in the short hair look

We can't take our eyes off PC in this picture as she flaunts her toned legs. With her perfect smile Priyanka manages to balance cute and sexy in this picture.

Image credit: Google

Priyanka Chopra in a bathrobe will make you sweat

Priyanka Chopra's lost look in this picture as she poses with a bathrobe is surely captivating. The actress is setting the temperatures high with this picture of hers.

Image credit: Google

Priyanka Chopra looks smoking hot in black and white

She's hotness personified as she poses in hot pants and black lingerie during a photo shoot.

Image credit: Facebook

Priyanka Chopra looks hot during workout too

Only PeeCee can look so damn hot during workout too.

Image credit: Facebook

Priyanka Chopra flaunting her hot and toned legs for a photo shoot

She looks like a million bucks in this gorgeous click.

Image credit: Facebook

Priyanka Chopra looks sizzling in this topless picture

Priyanka Chopra is looking smoking hot and sexy in this topless picture with denims. The actress who's missing from the Bollywood scenario for the longest of time now, is famous for her ultra sexual avatar and boldness.

Image credit: Google

Priyanka Chopra is looking HOT AF in this black unzipped dress

Priyanka Chopra is oozing hotness in this black unzipped. Priyanka Chopra's this hot and sexy picture is definitely soaring the temperatures of the city.

Image credit: Google

Priyanka Chopra is this hot dress is a sight to behold

Priyanka Chopra's this picture is shouting HOTNESS. The actress looked extremely desirable and sexy in all her movies so far and this picture is definitely making us wish to see more of her in movies here.

Image credit: Google

Priyanka Chopra is looking extremely desirable in this plunging neckline dress

No one can define hotness the way Priyanka Chopra does. She just radiates it with her every movie outing, making it difficult for us to bear everytime. She's definitely looking super hot and sexy in this particular picture.

Image credit: Google

Priyanka Chopra is looking extremely seducing in this black bra and denims

Priyanka Chopra is currently the most desirable women on every man's wishlist. She's looking extremely desirable in this hot black bra and jacket and we are sure many boys out there are falling for this hot and sexy actress already.

Image credit: Google

Priyanka Chopra flaunting her tresses in hot black dress

PeeCee looks sensual while flaunting her tresses in this sexy click.

Image credit: Facebook

Another hot click of Priyanka Chopra in black

While showing off her sexy black lingerie and messy hair, PeeCee looks smoking hot.

Image credit: Facebook

Priyanka Chopra shows off her back in deep sexy gown

The deep black dress is one of the sexiest attires we have ever seen her in.

Image credit: Facebook

Priyanka Chopra looks luscious in this hot click

Another smoking hot click of PeeCee in black.

Image credit: Facebook

Priyanka Chopra sets temperature soaring in this hot click

The Quantico star looks bold and beautiful in black and sets the temperature soaring with this hot click.

Image credit: Facebook

Priyanka Chopra giving a sexy pose wearing hot pink lingerie

PeeCee looks sultry giving this sexy pose for a photo shoot.

Image credit: Facebook

Priyanka Chopra giving a seductive pose for a hot click

The monochrome click enhances her beauty.

Image credit: Facebook

Priyanka Chopra is the most fanciable female in this hot click

PeeCee can kill with her looks and this click is a proof!

Image credit: Instagram

Priyanka Chopra in hot white dress

PeeCee sizzles in this hot white dress during photoshoot.

Image credit: Facebook

Priyanka Chopra's hot avatar for a photoshoot

Priyanka Chopra looks super-hot in this click!

Image credit: Facebook

Priyanka Chopra's sexy look in a open back top

Priyanka Chopra looks ultra-sexy in this look.

Image credit: Facebook

Priyanka Chopra looks super-hot in this red gown

Priyanka Chopra revealing her hot side for a photoshoot!

Image credit: Facebook

Priyanka Chopra's sexy avatar in denim shorts

Priyanka Chopra reveals her perfect toned body!

Image credit: Facebook

Priyanka Chopra snapped during a sultry shoot

Priyanka Chopra looks super sexy in this bold black outfit she did for Maxim shoot.

Image credit: Twitter

Priyanka Chopra snapped in bold black outfit

Priyanka can bring you to your knees with this sexy avatar of hers.

Image credit: Twitter

Priyanka Chopra snapped in sexy white outfit

Priyanka is ruling the shoot like a boss with her sultry avatar.

Image credit: Twitter

Priyanka Chopra's seductive pose during sexy shoot

Priyanka is irresistible in this super hot shoot of hers.

Image credit: Twitter

Priyanka Chopra gives sensuous pose during photoshoot

Priyanka looks sensuous while posing for a photoshoot.

Image credit: Facebook

Priyanka Chopa hot pic in traditional avatar

Priyanka Chopra sizzles in traditional avatar during this photoshoot.

Image credit: Facebook

Priyanka Chopra flaunts back in sexy dress

Priyanka Chopra can be seen flaunting her sexy back in this hot blue dress.

Image credit: Facebook

Priyanka Chopra looks smoking hot during photoshoot

The actress looks super hot during a photoshoot in this outfit.

Image credit: Facebook

Priyanka Chopra hot pic in saree

The actress looks stunning in this black saree while flaunting her tines body.

Image credit: Facebook

Priyanka Chopra looks super hot in this shoot

Priyanka Chopra is every bit hot and enthralling in this super sexy costume of hers.

Image credit: Facebook

Priyanka Chopra's naked outfit clicked

Priyanka Chopra is every bit bold and sexy in this sheer outfit of hers.

Image credit: Facebook

Priyanka Chopra posing for a click

Priyanka Chopra scantly clothed during a photoshoot.

Image credit: Facebook

Priyanka Chopra in sexy black outfit for a photoshoot

Priyanka Chopra poses in sexy black outfit during a photoshoot.

Image credit: Facebook

Priyanka Chopra hot HD pic

Priyanka Chopra posing on the beach during photoshoot.

Image credit: Facebook

Priyanka Chopra during hot photoshoot

Priyanka Chopra flaunting her body during hot photoshoot.

Image credit: Facebook

Priyanka Chopra in hot sheer dress during photoshoot

Priyanka Chopra posing in a sheer dress during a shoot.

Image credit: Facebook