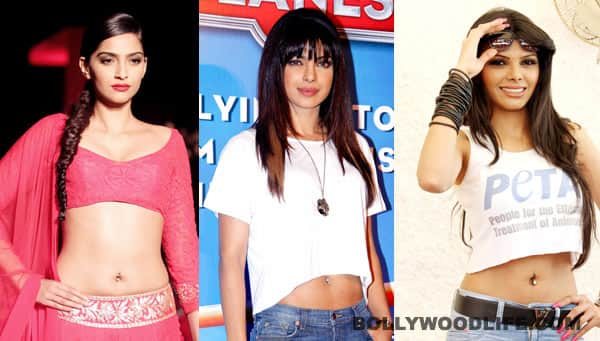 Piggy Chops, who has been flaunting her belly piercing lately reveals the secret behind the piercing. While we hear her story, we wonder if other celebs with piercings have such stories too…
It's not Priyanka Chopra's sexy bod that makes us go green with envy, but also her navel piercing which adds to her 'oomph' factor! Lately, the PeeCee has been showing off her navel on promotional tours. On being asked about her piercing, the Exotic babe has an interesting story to tell…
Why did Priyanka Chopra get a belly button piercing?
Priyanka says, "There's a secret behind my belly button piercing. Sometime ago, I was going through this rebellious phase. And in one moment of madness, I went ahead and got my belly button pierced. I was shi**ing bricks later. So, I got hold of a friend and went over and told my mother about it. I knew she would freak out. But once things cooled down, my father even got me the diamond I wear. And I'm happy to show it off. The piercing has been getting me a lot of compliments."
Well, everyone goes through a rebellious phase sometime in their life, no? After hearing Priyanka's navel piercing story, we wonder what stories do other Bollywood divas have to tell. Let's take a look at other B-town celebs who have pierced their belly button.
Sonam Kapoor
The first name that pops up in our mind is Sonam Kapoor. The super stylish Raanjhanaa babe doesn't always flaunt her sexy navel piercing but on some occasions, you can surely catch a glimpse of it. So, we wonder what's the story behind this Kapoor girl's piercing… We're sure it couldn't be a teenage rebellion kinda story, considering that she was on the heavier side back then (though it's a bit difficult to believe).
Bipasha Basu
The next on our list is the Bong bombshell Bipasha Basu. The sexy siren had a teenage dream to get her belly button pierced but didn't get it done back then. Well, it wasn't because she was intimidated by her parents but 'coz she herself was scared to death! Hear it from the horses' mouth! She got her navel pierced in 2011 and says, "I was really scared. I got it done at Aalim's place. This guy from Al's who did it, I had gone to him about 11 years back but got so scared that I ran away out of fear."
Lara Dutta
Former Miss Universe and now a yummy mummy Lara Dutta is the next on our list! While we've seen Lara flaunting her studded navel in several photoshoots, the story and pain (if experienced any) behind her piercing is still unknown!
Sherlyn Chopra
Sherlyn Chopra who dared to bare for a popular magazine also has a pierced belly button. Well, we've no doubt about her being camera-shy, she's proven it that she isn't. So we wonder since when did she have a wild streak in her… wild and brave enough to get a navel piercing.
The other divas spotted with a belly button piercing include our curly-haired Krrish 3 babe Kangna Ranaut, Ramaiya Vastavaiya girl Shruti Haasan, item girl Rakhi Sawant, Jannat actor Sonal Chauhan, Ayesha Takia, Riya Sen and Kim Sharma. But well, they haven't flaunted their navel as much as our Exotic babe and neither have they shared their story.
Poonam Pandey next?
So, while we continue being curious about the piercing stories of these babes from Bollywood, we were wondering who could be the next to follow the trend. We wouldn't be surprised if Nasha actor, Poonam Pandey was the next to flaunt a pierced belly with an interesting story to tell, considering that she loves to seek attention…
Now you tell us BollywoodLifers, whose story are you most curious about? And who do you think carries off the belly piercing with utmost style?