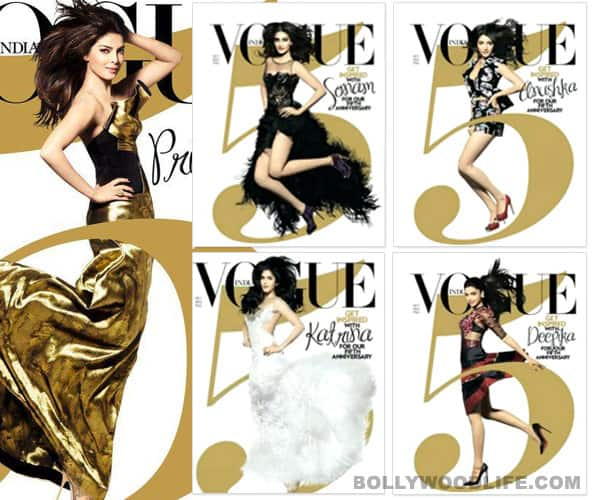 Five top Bollywood startlets adorn the cover of the anniversary issue of leading fashion magazine Vogue. Tell us who shines the brightest with her sizzling spunk in this one-of-its-kind fashion shoot. And watch as we show you just how this one was made…
It is sheer indulgence – five gorgeous B-town babes on five different covers, all for the world's best known fashion glossy, put together collectively to create opulence like never seen before. Here are Priyanka Chopra, Katrina Kaif, Deepika Padukone, Anushka Sharma and Sonam Kapoor looking their glamorous best as they glitter on the cover of the fifth anniversary issue of Vogue India.While PeeCee goes bling with her gold gown, Ek Tha Tiger babe Katrina Kaif is at her most playful in her fluffy white outfit. Anushka Sharma keeps her style short yet stylish; the gal certainly attracts our eyeballs with her gleaming legs. And talking about legs – how we could dare ignore leggy beauty Deepika Padukone – one of the most popular cover girls of our times wears a finely crafted red-and-black outfit and strikes the perfect pose with her oomph on full glow. And then we spotted the ever-so-fabulously-fashionable Sonam Kapoor in a fuzzy black designer gown.
After watching this galaxy of stars descending to earth for some fabulous cover shots, we got even more curious to go behind the scenes to find out how they enjoyed the shoot. We are sure you are as excited to know what went into the making of these stunning covers. So go ahead, indulge your oh-so-fashionable tastebuds and watch the exclusive video!