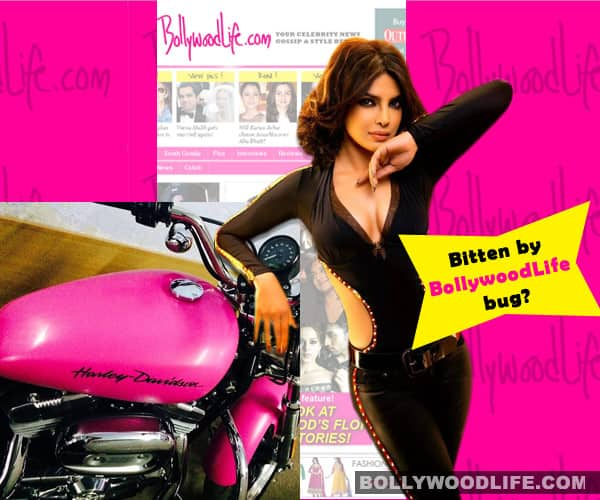 We are waiting with bated breath for PeeCee to arrive at her shoots with a vroom on that shocking pink beauty. That will be quite a sight to behold, no?
Priyanka Chopra puts an ear-to-ear smile on our collective faces at BollywoodLife every time she posts our stories on her Twitter page-and the superstar, super-glam babe does that occasionally, doesn't she?
We at BL love PeeCee for her unparallel style, incredible acting skills and amazing sexy moves. While some so called stars from B-town might scrunch up their starry noses for the wickedness and wit we display on our shocking pink website in terms of our frank wisecracks and unabashed frankness, megastars like Priyanka have always given us oodles of love and their warm approval for our tongue-firmly-planted-in-cheek-humour.
And now it's almost certain that Piggy Chops loves BollywoodLife as much as we adore her. Proving that point quite openly here we give you a sneak-peek of Priyanka's new Harley Davidson bike. Shocking and electrifying just like all of us at BL, this beauty sparkles like no other. "For all those asking.. Here's a sneak peak…To commemorate valentines! Pink for chick power! Why should boys have all the fun!," tweeted Piggy Chops as she gave us a glimpse of her magical machine.
We are waiting now for Priyanka to draw those much needed wild cheers and wolf whistles from us as she gets all set to ride that killer bike with an attitude and spunk that only she can generate, and blaze across the streets of Mumbai to a make her smashing presence felt with shocking pinkness!