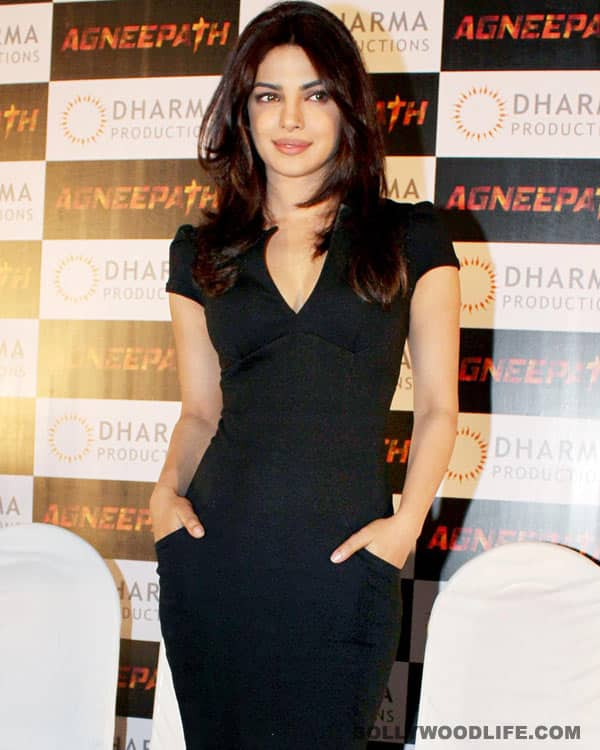 It's common sense why the Agneepath heroine is excluded from the guest list at the Dharma Productions' head honcho's 40th birthday party
A few juicy details of Karan Johar's much-awaited 40th birthday bash (May 25) organised by the filmmaker's designer buddy Manish Malhotra, have been revealed. A fancy invite is being designed in the country's capital Delhi, rather than in the glamorous Bollywood hub of Mumbai. Everyone from the filmmaker's bumchums to friends to acquaintances in the industry are invited for the birthday celebration.
Warring superstars Shahrukh Khan, Aamir Khan and Salman Khan are rumoured to be under the same roof, the first time since the ugly brawl that took place at Katrina Kaif's party a few years ago. We won't yet get excited and start hallucinating about a happy reunion between the Khans because for all you know, someone may turn party pooper…or knight in shining armour…and save us from another public fracas. As is obvious, lately the Badshaah of Bollywood has become more popular for his notorious acts outside the studios (brawl with Shirish Kunder, fight with the Maharashtra Cricket Association after his IPL won the match against Mumbai Indians) than for his onscreen presence. So we are more worried than thrilled about the Khans coming together. The other set of interesting stars that has made it to the coveted list includes exes like John Abraham-Bipasha Basu and Kareena Kapoor-Shahid Kapoor. Clearly, K Jo's party is going to be talked about for more than one reason.
The one star whose name is missing from the list of invitees is Priyanka Chopra. It doesn't take a lot of intelligence to decipher what could be the cause for the Agneepath heroine's omission from the revelry! But if the speculation is true that PC had not been invited, it further augments belief in the chinwag that she and SRK shared a lot more than professional ties, thereby upsetting Shahrukh's missus Gauri Khan and her best bud, Karan.
But we'd rather hold our horses and wait for either PC or KJo to give their side of story and not go into overdrive making endless speculation concerning the latest goss.