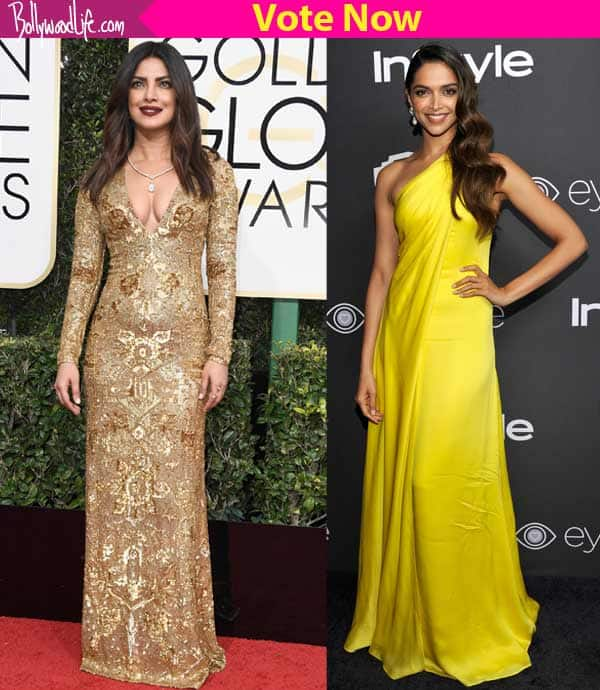 Deepika Padukone and Priyanka Chopra attended the Golden Globes looking stunning. Both the desi girls attended the Golden Globes after party together for the first time since they announced their debuts. While Priyanka presented an award at the function, DP joined in for the after party. Wearing a refreshing cocktail gown, Ms Padukone serenaded the red carpet of Golden Globes after party. A lot of things were really different and worth mentioning about Deepika. We'll divulge more on the same soon. Priyanka Chopra, who walked the red carpet and presented an award was a spectacle at the show. She won hearts of fashion critics once again with her gorgeous ensemble. The Baywatch actress was present at the event to announce the winner of a certain awards category along with Jeffrey Dean Morgan.
Deepika's yellow Ralph Lauren gown was refreshing and a bit surrpising because we didn't expect the diva to choose the said ensemble. Why? For various reasons. Firstly, yellow is not a colour DP would resort to when attending an event. However, she decided to try out this hue and it worked wonders. Secondly, her hair is usually styled in a centre sleek partition. Once again, the diva ditched the hairstyle she's famous for and opted for a very pretty hairdo. The way her wavy tresses rested on her shoulders made us go weak in our knees. Unlike how she would usually dress up, we were in for a really big surprise. And, despite twinning with Golden Globes winner Viola Davis in a similar looking gown, Ms Dippy surely stood out. (ALSO READ – Deepika Padukone looks like a Disney princess at the Golden Globes 2017 after party – view HQ pics)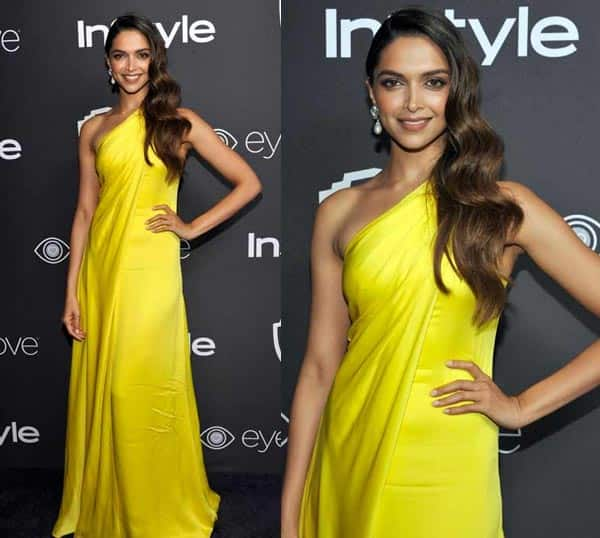 Priyanka, on the other hand, let her outfit speak for itself. The glitter and glam that PeeCee's ensemble showcased was exactly what we expected from her. Just like always, this time too the actress slayed the red carpet look by keeping it classy and chic. Chopra donned a Ralph Lauren number with a plunging neckline. You can be sure that the diva easily beat a lot of Hollywood actresses by turning up looking like a million bucks. To ensure that she didn't overdo her look, the actress kept her makeup subtle. In fact, Priyanka didn't even use much accessorising. Her hair and makeup game was so on point that most of Western media took her name as one of the best beauty and hair looks from the red carpet. She too, twinned at the red carpet, with Sofia Vergara but instead of catfights, the duo got along really well. (ALSO READ – Priyanka Chopra came, conquered and RULED the Golden Globe awards – Here are 7 pics as proof)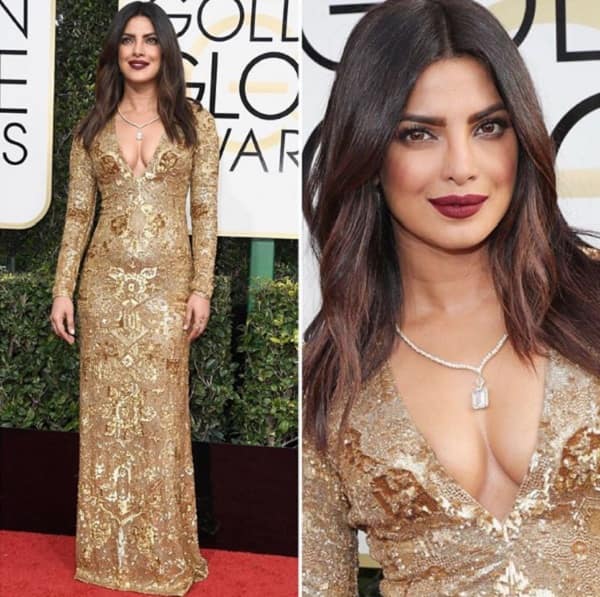 What's interesting is the fact that both the actresses sourced gowns from the same designer. Both their gowns are by Ralph Lauren and though they were poles apart, their outfits are, they looked equally hot. In fact, while Deepika had a more regal feel to her outfit, Priyanka's gown was sultry. Having said this, we are at crossroads! We don't know who looks better, Priyanka Chopra or Deepika Padukone. Therefore, its time for you folks to chip in your votes and tell us who looks the best at the awards function. So quickly cast your votes and tell us who according to you is more alluring at the red carpet.