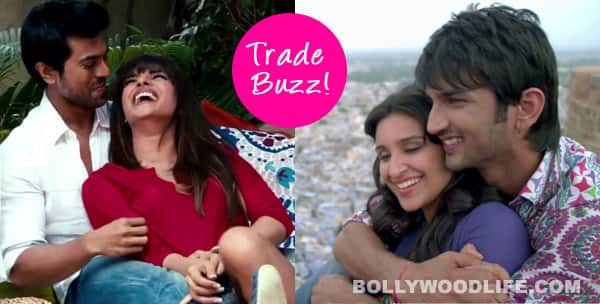 For the first time, the Chopra sisters are all set to clash at the box office with the release of their respective different genre movies – Zanjeer and Shuddh Desi Romance that hit the screens this Friday. Which Chopra girl will emerge victorious at the box office?
After movies like Chennai Express, Once Upon Ay Time In Mumbai Dobaara, Madras Cafe and Satyagraha having enjoyed a good solo run at the box office, film buffs are blessed with two options, strikingly different from each other. This week, there's Yash Raj Films romcom, Shuddh Desi Romance (SDR) starring Sushant Singh Rajput, Parineeti Chopra and Vaani Kapoor together for the first time – and Apoorva Lakhia's action flick – Zanjeer remake of the 1973 hit film, which marks Ram Charan Teja's debut alongside Priyanka Chopra and Sanjay Dutt. Surprisingly, the relatively bigger stars are at the losing end!
"The best thing about the two releases this Friday is that 80 per cent of the people who will watch Shuddh Desi Romance will probably not watch Zanjeer and 80 per cent of the people who will watch Zanjeer will probably not watch SDR. Both the films cater to absolutely different audience bases and neither of the two will bite into the business of the other," feels exhibitor-distributor Akshaye Rathi.
"While I expect a larger chunk of Zanjeer's business to come from its Telugu version Toofan and the tier two and three cities, SDR will make its impact with the multiplexes and the youth of the tier two cities. Expect happy times for the industry over these seven days!" Rathi adds.
About the box office fate of these two films, numerologist Bhavikk Sangghvi predicts, "As per the numerological meaning derived, it seems the Zanjeer remake will nowhere be able to match up to the expectations of the original and hence it will be outright rejected by the paying public. Despite its box office fate, the Telugu star Ram Charan Teja will be accepted by the audiences and shall receive accolades. Priyanka will do an earnest job and enact her part with utmost sincerity. Sanjay Dutt will be loved by the aam junta for reprising the role of Sher Khan enacted superbly by the late Pran saab"
On SDR, Sangghvi says, "Going by the film's basic theme, the numerological meaning derived from the vibration of the title seems apt; and hence it shall definitely appeal especially to those who endorse or at least believe in this concept. No prizes for guessing, all the three young actors will be equally praised for giving earnest and real performances. As for producer Aditya Chopra, it will be yet another hit for him."
We feel SDR certainly has an edge over Zanjeer, which doesn't look like a successful proposition to us. Watch this space for box office collections next week! In the meantime, tell us which one will you watch this Friday?