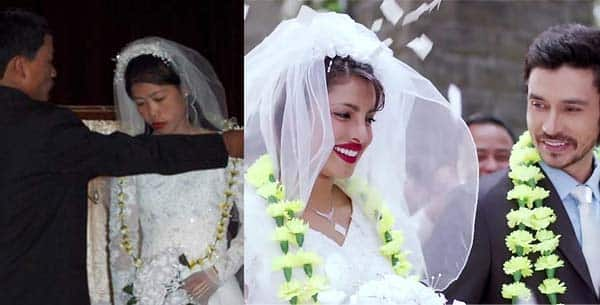 The actor who will be playing the medalist boxer in an upcoming biopic will be seen recreating every aspect of the athlete's life
Mary Kom is known to many as the Olympic medalist boxer who made India proud. But many are unacquainted with other facets of her life, that of her being a mother and a wife. The boxer is married to K Onler Kom and in the biopic which depicts her life story, Priyanka Chopra will be recreating her wedding day.
Priyanka who plays Mary in the biopic will be seen donning the white bridal dress and saying the vows to her onscreen husband Darshan Kumaar. The makers of the film roped in designer Rajat Tangri to recreate a similar white bridal gown as Mary wore to her wedding for the scene in the film.
After much deliberation and effort Tangri crafted a similar gown out of the same material that was used to make Mary's wedding dress. Not only did it help Priyanka create Mary's special magical moment more earnestly, it also lent greater significance to the particular scene.
We cannot wait to see Priyanka to play Mary Kom on the big screen! What about you readers?