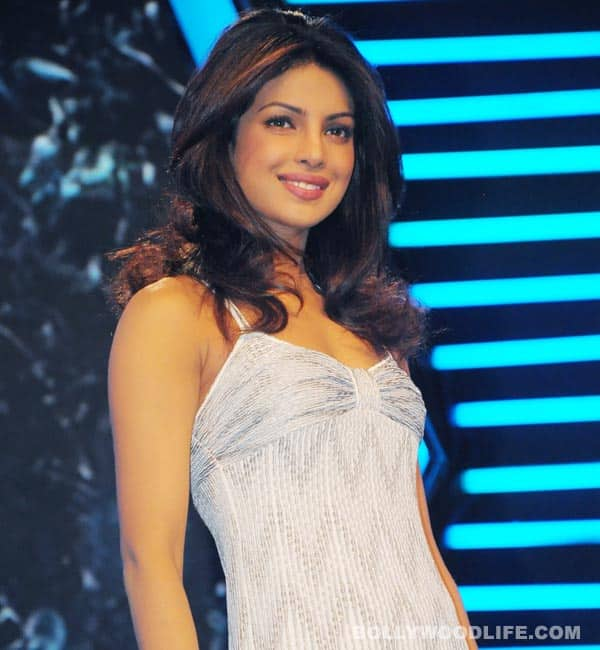 The sassy actor is on a major low after the veteran director's death
Working in a Yash Chopra film was every heroine's dream; the director was a star maker who portrayed heroines more beautifully than anyone else ever could. And for actors who couldn't work with him, it will always remain a source of regret. And you can see this clearly in a heartfelt rant that Priyanka Chopra posted on Twitter.
Piggy Chops was rehearsing for an act for an upcoming awards function when the director passed away. A shattered Priyanka revealed in her tweet how as a child she would act as a Yash Chopra heroine, which was how her childhood was connected to the legendary director. She also expressed deep regret that she did not act in a Yash Chopra film, and how her innermost wish was to hear the word 'action!' from the legendary director. She also has plans to do a special act based on all of Yash Chopra's top songs at the upcoming People's Choice Awards.
Here's her long Twitter tribute to Chopra: "Writing cause I have an upheaval in my heart..was doing a Barfi act for People's choice awards but since yashjis passing its like my childhood is over..been rehearsing for a befitting shradhanjali to Him.when I was a kid every time I saw the beautiful Juhi in darr of Lovely Madhuri in Dil Toh Paagal Hai or my fav Sridevi in lamhe or chandni I used to start pretending to be them..id steal my moms white saree and stand in front of a table fan and dance as if I was doing toot gayi toot ke main choor Jo gayi with my hair flying..I pretended as if I was being serenaded by the man of my dreams… My one regret.. My one wish.. Yashji will never say action to me..my life as a Hindi film heroine will always be incomplete..I remember him laughing at me when I used to tell him about my obsession with his films..would anyone capture a woman's beauty and heart the way Yashji did..? I Doubt.. But all ill say is.. Life is too short to keep wishes in ur heart..wish I'd told him I wanted him to just say action once to me..I'd walk in the background for him..I wish Jab Tak Hai Jaan so much success from my heart and I'll vicariously live my incomplete Yash Chopra dream through @iamsrk Katrina and Anushka…. Live out ur wishes..make ur dreams come true..fight for them..life is too short to take it for granted.. Sorry for my ranting..had to vent."
Heartbreaking, no? We feel your loss, Priyanka, and we're sure that you're going to be just as good in your next outing with Yash Raj Films. And so what if Yash Chopra cannot direct any more? It may just be that his illustrious son Aditya Chopra will be your director soon!