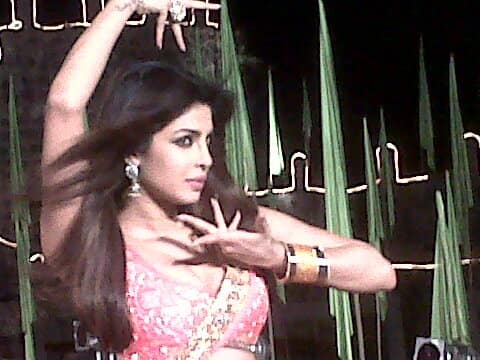 The actor-turned-singer could not stop herself from giving us a sneak peek of her much anticipated film
Priyanka Chopra and Ramcharan Teja – the lead pair of the Zanjeer remake – had clarified even before they started shooting for the film that it was impossible to step into the shoes of Amitabh Bachchan and Jaya Bachchan, who made the original film a box office success with their remarkable performances. And now we are waiting to see if PeeCee and South actor Teja can entertain us as successfully with their upcoming remake.
Producer Amit Mehra, son of the late Prakash Mehra and director Apoorva Lakhia are trying to guard the look of PeeCee and Ram Charan Teja in their much anticipated production. But film's lead star Priyanka could not stop from giving us a sneak peek of her look.
In the picture we see Piggy Chops wearing a pink lehenga-choli. Much like her role in Karan Malhotra's Agneepath where she portrayed a girl from a humble background, here too Piggy Chops is playing a small town girl who finds herself in an extraordinary situation. The actor's shimmery outfit, the gold bangles and the chunky earrings talk volumes of her role. Ram Charan Teja will be seen playing the angry cop and Priyanka will recreate the spunky Mala who falls for the dashing lawman.