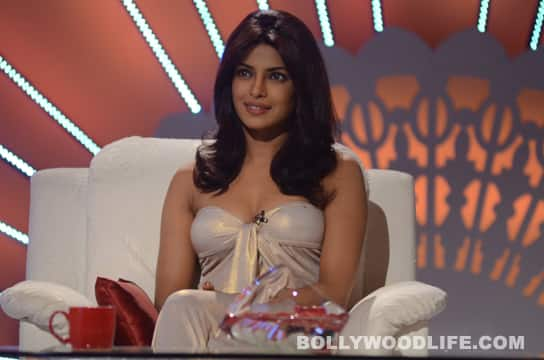 The actor says she loves to be wooed, but unconditional love does not exist at all
Priyanka Chopra has made some startling revelations to Simi Garewal on Simi Selects India's Most Desirable. We hear that wanting to kiss Deepika Padukone is not the only secret she has revealed on the show. Piggy Chops spoke about how she believes it is not possible to love unconditionally. "I've discovered over the years that nobody can give unconditional love. It's the toughest thing in the world. No expectations…you can't do it, it's not possible. But, to just give, even if it's unrequited, I'm not saying be a door mat – but that's how love should be."
So, how difficult or easy it is to woo the lady? "I will make life really difficult for you, if I like you. I have these walls and especially if I like somebody then I build them even more. The only way for him to penetrate that wall would be to just sweep me off, take me by surprise, make me believe that he really wants it." Falling in love with a co-star just because you are doing a romantic movie is not necessary, Piggy Chops explained. "It is great to be in a relationship while doing films. It's a lot of feeling, of course it is, because you know, the scenes have another meaning and it's cute and it's fun, but it's not necessary. I mean it will be the same thing if we don't get along with the co-actor." Hmm… is that a dig at those rumour mongers who started claiming she was dating Shahid Kapoor and Ranbir Kapoor just because of the chemistry she shared with them in Kaminey and Anjaana Anjaani?
Simi Selects India's Most Desirable airs Sundays at 9pm on Star World
ALSO READ:
Priyanka Chopra wants to kiss Deepika Padukone!