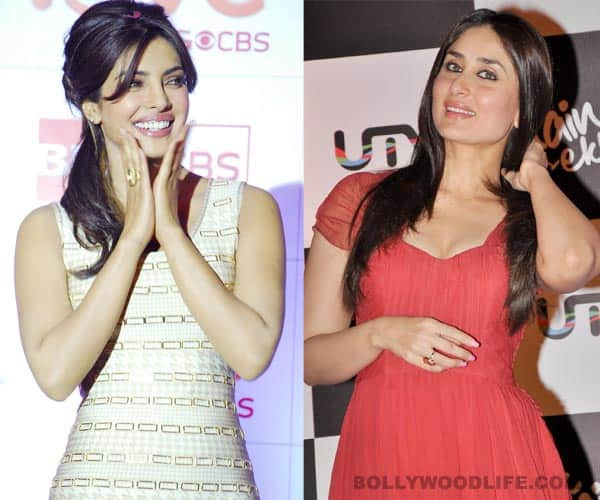 After Bebo begum's sweet words for her arch rival PeeCee, the actor-turned-rockstar returns the favour with equal benevolence
In a recent interview Heroine hottie Kareena Kapoor, who is famous for her hoity-toity attitude, suddenly had only the nicest and kindest words for her contemporaries, especially for a certain Ms Priyanka Chopra. Remember we told you that Bebo begum not only said that she is a big fan of PeeCee, but also that the Barfi! babe is a damdaar actor?
And moi thinks the actor-turned-pop singer definitely read BB's interview! 'Coz she grabbed the opportunity with both hands to return the benevolence. It happened at the launch of PeeCee's first single, In my city, in which she has crooned along with will.i.am. When Piggy Chops was asked about Saif Ali Khan and Bebo's impending wedding, this is what she said: "It's beautiful. She's going to start on a new journey. It's every girl's dream to have her own house and family. I think Saif and Kareena make an incredibly beautiful couple. I am really looking forward to seeing her as a bride."
But don't forget that not very ago long the once-upon-a-time good friends indulged in a bitch fest on KJo's chat show Koffee With Karan. After PeeCee's recent visit to the sets of Heroine and her hugging-bonding session with Bebo, their ever-changing equation has changed yet again.
Moi thinks that Priyanka, like Bebo, seems to turning over a new and boringly diplomatic leaf, becoming sweet and sugary. If you remember, we told you a few days ago that the Barfi! babe publically (on Twitter, at least) thanked her favourite co-star Shahrukh Khan for trusting her professional capabilities. And now she turns nice to Bebo.
It makes us wonder if B-town's reigning divas are losing their bitch and bite. Sigh! Moi don't like it at all!