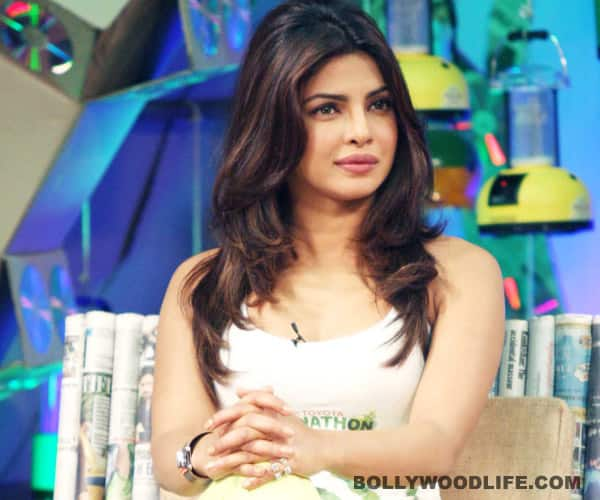 After receiving flak for getting up close and personal with Shahrukh Khan, Priyanka Chopra now thinks twice before uttering her Don 2 co-star's name. But the dusky bombshell also believes that there is no tension between her and the Badshah of Bollywood
We all know how Priyanka Chopra kissed and made up with a coterie of powerful star wives when she turned up at Karan Johar's 40th birthday party recently. The same gang who went into overdrive to give PC a bad name for her personal equation with Shahrukh Khan has now resolved issues with the Agneepath lady. But we have been hearing all kinds of speculations claiming that SRK will never work with PC in the future.
Priyanka Chopra has her take on the matter: "Look, if an actor doesn't want to work with me, he won't. I don't want to get into whether he won't because his wife or director has warned him against it or he himself is averse to it. I'm a self-made girl, I am a complete outsider, I've never been recommended by anyone. I've made a career for myself. I've never had my father or friends make a movie for me, I didn't have any brother, sister, friend, boyfriend or anyone else to show me the way. I'm extremely thankful to the industry for giving me a chance to be here and grow. I take immense pride in the way I've led my life so whatever issues other people have, are their problems,"said Priyanka in an interview to a magazine.
Wow! That was a power packed blow from Priyanka! But that answer made us wonder if the entire episode has had any effect on the once 'friendly'equation between her and SRK. "None whatsoever. SRK is as heart-warming as ever. He recently came on my show on a public platform (Greenathon). He was fun like he always is. But I don't talk about him at all. I've always respected, emulated and idolised him but I don't like to talk about it anymore," she added.
We are certainly happy for Priyanka. And knowing that PC still finds Shahrukh very heart-warming is a comforting thought, but we can assure you that this news would certainly not warm the cockles of some glamorous and starry hearts. You know which ones we mean, don't you?