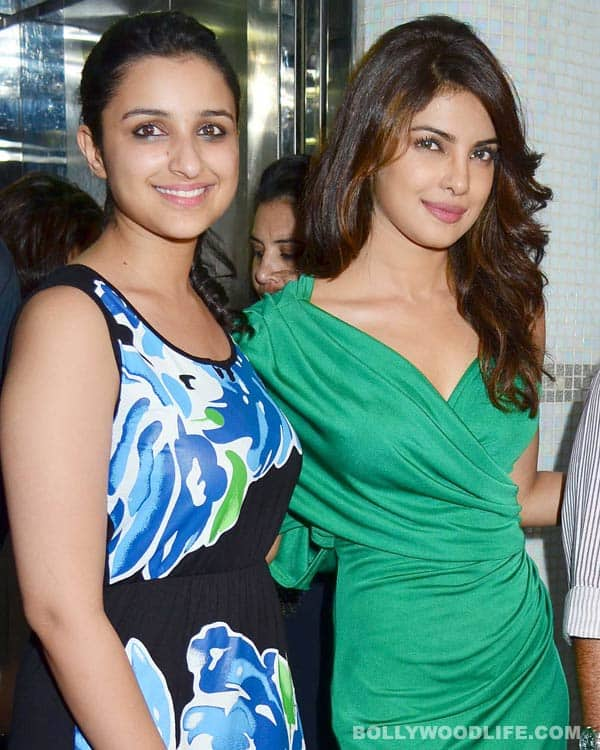 A sprained ankle brought the cousins together recently. And tending to the Ishaqzaade actor's hurt leg was a concerned Karan Johar, firmly by Pee Cee's side. Now what's up here?
Who's not aware of the rift between Priyanka Chopra and Karah Johar? Hardly anyone, right? But while we know of KJo turning a cold shoulder to our jungli billi, steaming goss says that the two actually worked together to set Parineeti Chopra's twisted ankle straight. Ahem ahem. Talk about being the friend in need, eh?
It so happened that minutes before Pari was scheduled to walk the ramp for Shabana Azmi's Mijwan Sonnets In Fabric 2012 fashion show, the chubby Chopra sprained her ankle. Ouch! "Parineeti somehow went through the act, and then collapsed backstage. Priyanka rushed with Karan Johar to her side, attended to her ankle and made sure she was comfortable. It was an amazing visual of sisterly concern," a birdie who witnessed it all chirped. True, the sisterly concern was indeed touching.
But hello, did we just hear Priyanka and KJo sharing small talk over a twisted ankle? Guess we did. And while we totally understand Pee Cee fussing over her sister-in-pain, we can't really figure out how The Student Of The Year maker got involved. Were you truly concerned about Parineeti's ankle or were you just trying to give Priyanka another chance to set things straight between you two, dear KJo?