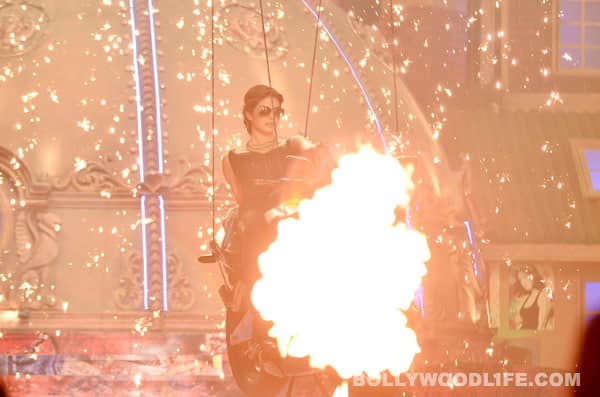 skip advertisement
And on this Teachers' Day we couldn't help but wonder who Piggy Chops' tutor was for this one. Salman Khan, perhaps?
Don 2 is passé, but Priyanka Chopra is not yet ready to let go of her character from that movie. And guess that's precisely why Pee Cee decided to relive those moments by making a vrooming entry on a bike during the BIG Star Young Entertainment Awards ceremony. Oooooh! Now that's neat, we say.
What's more, the lady looked very Lara Croft-like while perched on the superbike in those skin-fitting black tights as she descended on to the stage with the help of wires. But wethinks her act would have really been complete had she chased her favourite Don while in that get-up, no? Sigh! Par ye ho na saka, for reasons best known to Priyanka Chopra and Shahrukh Khan only.
But it's okay, Pee Cee. So what if one Khan is khafa; you now have another reigning Khan (read Salman Khan) on your friends list, right? And while on this subject, we can't help but wonder if he shared some pearls of wisdom on biking with you at 4 am on that fateful morning. Did you, Sallu?