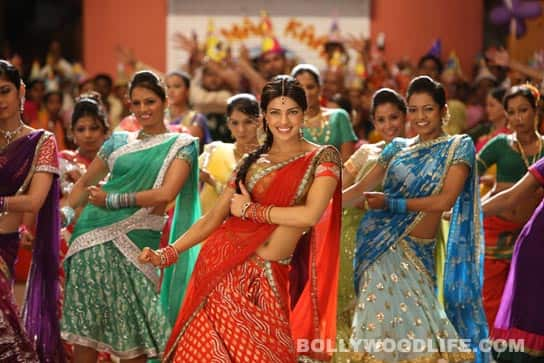 Selena Gomez might have been branded as 'insensitive towards Indian culture' for wearing a bindi in a recent music video, but back home desi girl Priyanka Chopra believes that the bindi has become an international style accessory that represents Indian culture on the global stage
When Selena Gomez, the now on-now off flame of American singing sensation Justin Bieber sported the bindi in a recently released album Come and Get It, the babe came in for some serious criticism. Purists believe that the bindi symbolises the centre of female energy. In other words, it is emblematic of the power of the third eye and should not be treated as just another passing fashion fad.
Back home Priyanka Chopra has an interesting take on the controversy. She says that there's no need to blow things out of proportion. In her opinion, the bindi craze shows that Indian style sensibilities are being embraced across the globe. "I think it's great that musicians are discovering the beauty of the bindi. In today's day and age, the bindi is not restricted to religious or traditional purposes, but is actually a very popular fashion accessory," said PeeCee in a recent interview with Billoboard.com.
Priyanka herself has been seen sporting the bindi at various events and on the red carpet. She maintains that the forehead ornament has many connotations, even if it seen as a religious symbol. So what does the 31-year-old think about Selena Gomez wearing it so casually in her music video and on stage? "I think it's very apt, especially since this track has an undeniable Indian influence and sound. Personally speaking, I think she carries it really well," Priyanka insisted.
Last year, the Babli badmaash sensation went on a shopping spree with singer Katy Perry. The blonde beauty, Priyanka recounts, had bought Indian jewellery and accessories. According to PC, the bindi suited Katy perfectly. "If worn correctly, it can make you look sexy," she explained.
Now give us your take on this desi style sensation, BollywoodLifers. Do you find the bindi sexy?