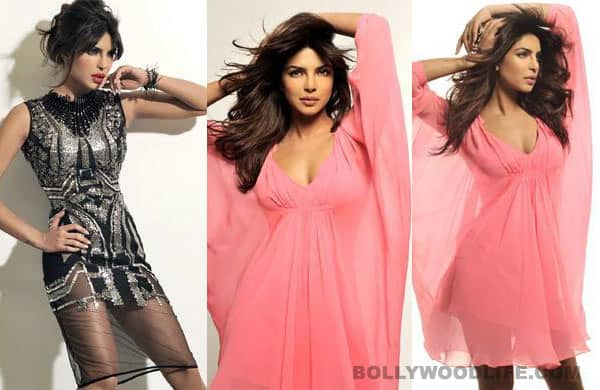 The Babli badmaash star puts her best foot forward for this exclusive fashion shoot. Tell us how stunning does PeeCee look with her undeniable panache in this behind-the-scenes video!
Priyanka Chopra makes for a stunning cover gal! Her spunk, energy and ability to pierce hearts with that sensational gaze make the Miss World-turned-Bollywood diva the star that she is. In this fashion shoot for the popular Canadian glossy Anokhi, the Barfi! babe showcases her best. The 30-year-old actor slips from a little black dress to a nice free-flowing peach gown to a silvery kitsch outfit with a generous furry collar. And she transforms into an impossible diva every time!
"You need to be confident. Beauty needs to come from within. It has nothing to do with the material things. It has no connection with external things," says the charismatic Chopra. We can't agree more with Priyanka on this and think what makes the actor even more graceful is the way she takes up the challenges both in her professional and personal life. More power to Piggy Chops in the days to come and we hope she continues to surprise us with her supreme style statement, her fine acting chops and her enthralling music solos!