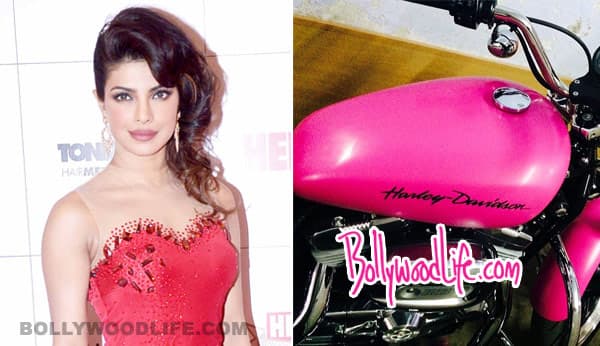 The feisty actor has cancelled her plan to take her mean machine to Manali thanks to its pink colour. Read on to know how the unusual hue of PeeCee's bike can possibly put her in danger
Priynka Chopra, as we know her, is fiercely independent and unbelievably feisty. The 31-year-old loves adventure. No wonder then that the actor wanted to take her new Harley Davidson to Manali where she will be shooting for her next, Mary Kom, for over a month.We hear that once PeeCee realised that she would be shooting in Manali and Dharamsala for over a month, she began making adventurous plans to take her bike to the far-flung region. She had even started the process of transporting her motorcycle to Manali on a train.
Thankfully, for the actor's safety, her crew suggested that pink is a very rare colour for a bike. So even if the actor wears a helmet to guard her starry identity, she will be spotted very easily and then there could be a possibility of her getting mobbed by the crowd. A secret birdie told us, on hearing this, Priyanka immediately threw her adventurous plans of bike-riding in the trash-can!
We suggest that PeeCee should take a ride on a stretch located beside Bandra promenade or along the queen's necklace in Mumbai. That will be a smooth, secure and hassle-free spin, no?