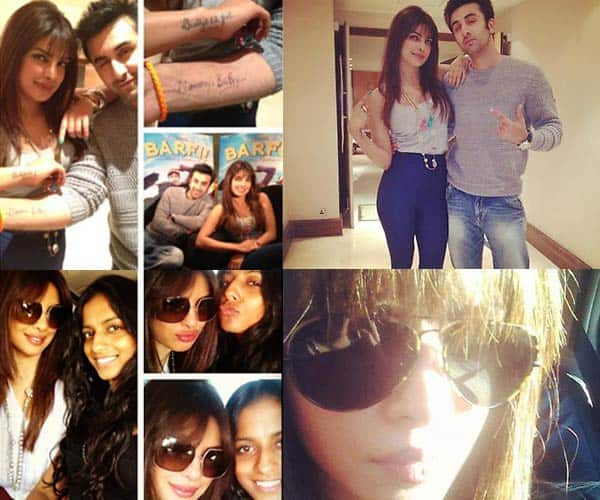 The Barfi! actor has got herself a cool new hairstyle and wardrobe
Priyanka Chopra has been posting some cute pictures on Twitter of Ranbir Kapoor and herself promoting their forthcoming Anurag Basu movie Barfi!. And apart from showing off the cute little forearm tattoo that reads "Daddy's little girl' and competing with Ranbir, who painted on a fake 'Mommy's big boy' tattoo, Priyanka has also been spotted with a new hairstyle.
She now has a much straighter mane with bangs – a total rock chick look! The mid-waist blue pants and grey vest with junk jewellery adds to creating the overall persona. She also wears an interesting chain around her neck that has 'Shubh labh' written on it. The green nail paint is the perfect touch.
Obviously PC has already started working on creating an interestingly quirky image to suit the international singer that she is about to become! And considering that she is shooting music videos too – even though she will include some desi elements – she needs to look thoda sa funky, no? Do you think she took tips from friends and singing stars Katy Perry and Lady Gaga? Even though we are confident that Piggy Chops is completely capable of styling herself, we wouldn't be surprised if she did take a cue or two from them!
We are happy to see the quirky and fun side of 'PC-the rock chick' coming to the fore!