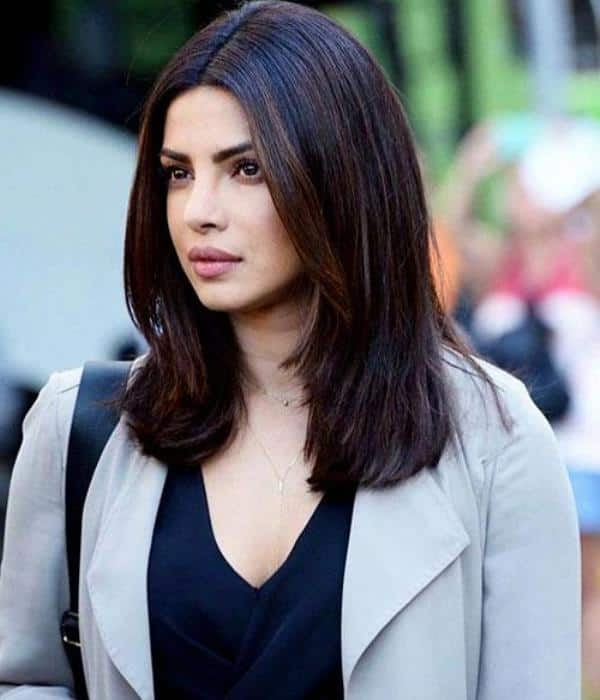 Priyanka Chopra has been ruling Bollywood since a while now, however last year she took America by storm with her popular TV series – Quantico. The crime thriller in which she played an FBI agent (the lead), has been very popular across the world and after a successful first season, Priyanka and her gang are coming back with an even more exciting – Quantico season 2. And the wait is not much! Quantico season 2 premieres in India on September 26 at 9 pm (September 25 at 10 pm in America). We have seen a few rushes of the new season already and while we can't wait to see Quantico 2, Priyanka teased us with yet another special scene from the sets of the show and she is joined by her gang – Johanna Braddy, Yasmine Al Massri, Aunjanue Ellis and Jake McLaughlin for the video.
In the video, we see Jake McLaughlin talking about their first mission and how it will start from September 25 at 10 pm (September 26 at 9 pm in India). Priyanka butts in  and asks him how that will be possible coz their show will start airing from that time. Johanna Braddy, Yasmine Al Massri and Aunjanue Ellis join in the argument, they fight, have a li'l laugh and then reveal how they are excited for Quantico season 2, which starts on September 25. Priyanka shared the video on her social media pages, with the caption, "Special scene with the OGs only for u. #quanticos2 coming this Sunday sept 25th 10pm est #originalGangsters @thejohannabraddy @jazmasri @aunjanue_ellis and jake mclaughlin." Ain't that cool? (ALSO READ – Ahem! Priyanka Chopra OPENS UP on being in relationships with her co-stars and we can't stop guessing!)
In Quantico season 2, instead of an FBI agent, we will see Priyanka and her team turn into CIA agents. The new season looks very intriguing and exciting. In fact, Priyanka's new looks is really cool and has been getting really good feedback too! While the season begins this coming Monday, the shoot for Quantico season 2 will go on with Priyanka and her gang filming in New York.
Recently, we even reported to you how Priyanka is planning to shift her house soon. PeeCee was staying at a lavish apartment in central Manhattan till now. But with her shoot locations for Quantico season 2 being far away from where she resides, Priyanka requested the studio to provide her an apartment in the Upper East side so that she can save time by staying be closer to sets. Priyanka wants to give her maximum time towards Quantico season 2 so that she can deliver more and hence, the request. In fact, the studio has already offered PeeCee a new apartment and she will be shifting soon. We are sure a house warming party with her fellow Quantico co-stars will follow soon. (ALSO READ – Priyanka Chopra becomes the highest paid Indian actress in the World, beats Deepika Padukone hands down – read the details)
In the meanwhile, Priyanka is also gearing up for her Hollywood debut – Baywatch alongside Dwayne 'The Rock' Johnson and Zac Efron. She plays the antagonist – Victoria Leeds in Baywatch, which releases in May next year. Priyanka will also be seen on Project Runway season 15 as a guest judge. Anyway, coming back to Quantico, check out Priyanka Chopra's special video below and tell us how excited are you for Quantico season 2 in the comments section below!