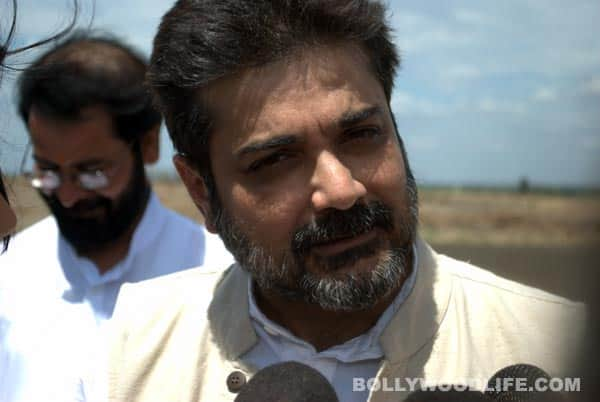 Call him the Shahrukh Khan of West Bengal or the Rajinikanth of Calcutta; Prosenjit Chatterjee doesn't seem quite fascinated with fancy sobriquets. And while we met him for a confab, we discovered quite a few things about this famous Tollywood actor
He's pompous in a nice way and his statements have a pleasantly narcissistic tone. And while he gets into a talking spree and tells us about his new film Shanghai, we realise he talks this way only 'coz he knows he has a certain reputation in the industry.
Although he has a tendency to go off on a different tangent every time he answers our curious questions, we try and make sense of what he exactly means whenever he deviates. "I've done a Bollywood film after a long time. I have worked with a lot of directors in my career, but I really wanted to work with the younger lot. And after working with Dibakar Banerjee in Shanghai, I think I reinvented myself as a person. I said yes to Dibakar only 'coz he makes his actors work in a very different way. He really made me understand that I should take up this film," he says.
So does he care about box office profits, or is it just passion for films that keep him going? "I have cared about success and stardom in the past, but there comes a time when you feel the need to get creative and cater to a larger audience. This is one of the reasons I thought doing Shanghai would do justice to what I want from my career at the moment. I don't have a huge part in the film, and neither am I claiming that I carry the whole film on my shoulders. But one thing I am confident about is that people will appreciate me as an actor after watching this political flick," he says confidently.
It seems like the film deals with issues like red-tapism and bureaucracy; what's your personal take on such subjects? "I am a very non-political person. The only politics I understand is politics in films. Today I am the man who represents the eastern film section at FICCI 'coz they know I've been fighting for my industry for years. Regional industries have their own issues and whenever problems arose I've gone and spoken to the system. So if you ask me to comment on this subject, I can't. I will just say that I've the same issues as any other common man," says Prosenjit
Have you ever felt like an outsider while shooting with people from Bollywood? "Not really, I've always been a very friendly person. I never feel like an outsider anywhere as I usually get along with people," he says emphatically.
So why did Dibakar have to convince you so much, to do Shanghai ; were you insecure of the fact that there are big stars like Emraan Hashmi and Abhay Deol in the film? "Nothing of that sort, I just wasn't sure if I wanted to do a Hindi film right now. I wasn't ready for it. And whenever I meet these young directors like Dibakar Banerjee and Sujoy Ghosh, the only thing they tell me is that I've crossed the stage of stardom and I should start doing roles that appeal to me," he justifies.
'Proshonjit', as Bong people rightly call him in their heavy accent, won a National Award in 2007 for his performance in Dosar opposite Konkana Sen Sharma. He also won loads of critical acclaim for Choker Bali, in which he acted opposite Aishwarya Rai Bachchan. So after Ash and Koko, who's next on the work wish list from Bollywood? "I've worked with Bipasha Basu, Sameera Reddy and most of these young girls. The only actor I missed working with from my generation is Madhuri Dixit. Also Vidya has expressed a desire to work with me lately," he boasts.
So obviously you're loaded with Bollywood offers 'coz of your Bong connection? "I don't think so. Even today when Mani Ratnam comes to Kolkata, he gives me a call if he needs any help. So it's but natural that you get in touch with a senior person to guide you, mentor you or ask for help. The industries may be separate, but at the end of the day we all belong to the same film world. Sujoy Ghosh is writing a film for me only 'coz he thinks I might suit a certain character, opposite Vidya Balan. But nothing has been finalized yet and I don't think it has anything to do with Bong connections," he says.
So is there anything you dislike about Bollywood films? He says, "Not really, there's nothing I hate about Bollywood. But honestly, I would never do a film like Dabangg. I've crossed that phase and I can do that in Bengal, but I don't feel the need to do that here."
We heard about the lovemaking scenes you have with Kalki in Shanghai, tell us something about that. "Yes, I have bold lovemaking scenes with Kalki in the movie. The situation in the film demanded it, and the scenes are more emotional and not incorporated for the heck of it," he says firmly.
When we asked him about the fave look he's portrayed in a film till date, he signs off on a jovial note by saying that, "Normally it's the good looking hero look that I love the most, but you wouldn't see me in much of that avatar these days."