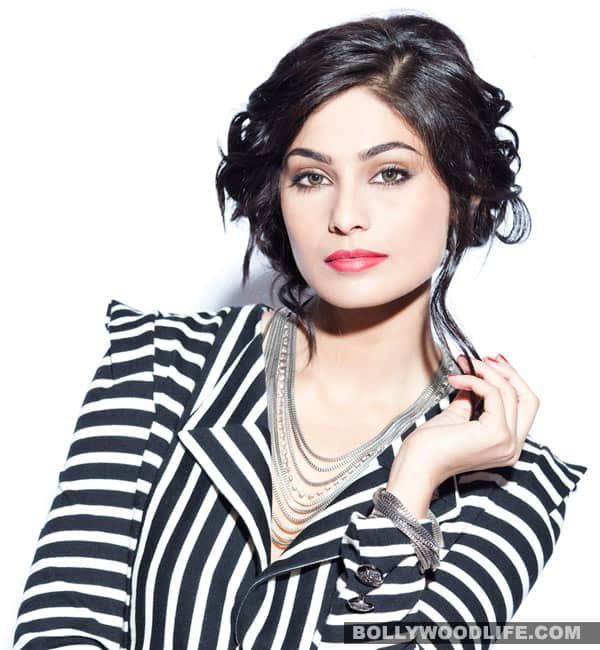 The newcomer says that Bollywood was an obvious step after winning the Miss India Universe crown in 2007. And as we dig deeper, we find that she has been a huge fan of Sridevi since childhood, which is also one of the reasons why being part of B-town has always excited her so much
After FALTU with Jackky Bhagnani, Puja Gupta is all set to be a part of Go Goa Gone and Shortcut Romeo. And now that the babe is gearing up for the shoot of her upcoming films, we talk to her about life, movies and her personal style statement…
Tell us something about your character in Go Goa Gone and Shortcut Romeo?
Shortcut Romeo is my first romantic film. I play two roles in the film, one is that of a glamorous girl and the other is a simple salwar-kameez clad chick who belongs to a poor family.
Do you have split personality in the film?
(Laughs) No, I am not mentally ill in the film. In the first half I play a glamorous woman who cons Neil Nitin Mukesh and in the second part, I play the simple girl. And in Goa Goa Gone I am like one of the boys. She is fun-loving and cheerful, but there's no love angle as such. She ends up meeting three guys in Goa and they become best friends and save each other from zombies. It's an out-and-out zombie comedy.
Bollywood has a tendency to get stereotypical; don't you think so, considering you were offered a similar role in FALTU?
It's not exactly a similar role. One way of seeing it would be that I am young right now and I represent the youth and hence am offered such high-energy tomboyish characters often.
You are advocating vegetarianism in a recent campaign for PETA. Don't your friends ever make fun of you for being such a hard-core vegetarian?
Oh, you have no idea! My own brother is a meat eater and there are times we get into intense arguments about what to eat and what to skip. He teases me saying that my body will be full of deficiencies some day, 'coz I don't eat meat. So yes, I face issues with my own family. But I've always loved animals, so the idea of eating them sickens me. My father has tasted frogs legs and he keeps telling me stories about how they put the frog on a skillet and it jumps. Phew! I am glad that I am a vegetarian.
What's your personal style statement like?
I am not the kind who would go crazy with fashion and experiment a lot. Flaunting mismatched colours is not my idea of a great style statement. I like to keep it simple and I also love colours a lot.
Did you always want to be an actor?
My mum and I still joke about how when I was a kid, I used to be such a huge fan of Sridevi. I used to copy her and watch all her movies. My mother thinks I am a big drama queen, so I am not surprised that I am a part of this industry now.
You will get to act with Saif in Go Goa Gone – how does it feel?
I am a li'l nervous, obviously. I have met him a couple of times and he's quite a gentleman. I loved him in Kal Ho Na Ho. I like him when he's funny. I didn't like him much in DCH.  His role in Hum Saath Saath Hain blew me away, totally!
Zom-coms are still a nascent concept in Bollywood. You've entered a new zone altogether. Do you think it will work?
That's the exciting part and that's why I said yes to the movie, 'coz it's different. The scripting is different. The youth should watch it, laugh out loud. I definitely have my hopes high about this one.
So what are your favourite zombie films?
28 Days Later is an every-time fave; I remember watching the film when I was 17 and I was awestruck. I didn't know I was going to be a part of something like this in the future.
Considering you're a newcomer, do you ever get nervous while shooting in a roomful of people?
I think my biggest strength is my confidence. That's what got me through Miss India, that's what got me through Miss Universe and that's what got me through living alone in Mumbai. My mum says that I've always been a confident child. I've never really been nervous about anything.
Any strategies you have thought of to deal with rumours and link-ups?
I don't think the younger generation really cares much. It's a part of the package. What's important is that my family knows what's going on in my life.
You sound very driven. Where do you see yourself a couple of years down the line?
I would like to ask you that – where do you see me a couple of years down the line after watching my films (laughs)? If I start thinking about my future, it won't take me much time to get transported to la-la land. I am fine with focusing on the present.