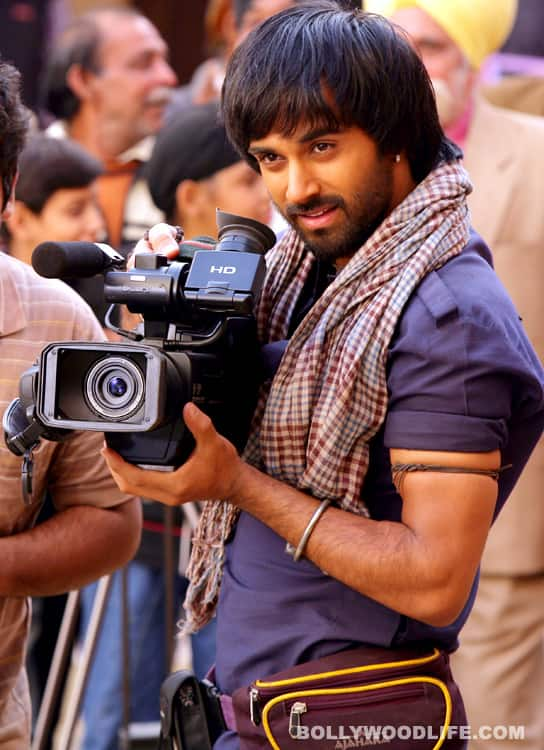 Television actor Pulkit Samrat who played Lakshya Virani in the long-drawn-out drama that was Kyun Ki Saas Bhi Kabhi Bahu Thi will make his big screen debut in the soon-to-release Bittoo Boss. The Delhi born and bred actor gets chatty about his first Hindi film
One look at the promos of the forthcoming Bittoo Boss you don't realise the charismatic and arrogant videographer in it is a well-known face. At least, that's what yours truly felt. After some asking around and a Google search, it turns out that Pulkit Samrat played Lakshya, a young Virani son in the superhit Hindi TV soap.
But even before he could enjoy the success of his first acting job, the young actor quit the TV show to carve out a career on the big screen. Four years later his quest ended with Bittoo Boss. The film is produced by the young Abhishek Pathak who made the female-bashing comedy Pyaar Ka Punchnama last year. Those who have seen a glimpse of Bittoo Boss (BB) sense the look and feel of the film is similar to the Anushka Sharma-Ranveer Singh-starrer Band Baaja Baaraat, but Pulkit negates the thought. He says, "The comparisons are from the promos people have seen so far. But when they watch the film, it is entirely different and nowhere close to Band Baajaa Baaraat." Set in a small town in Punjab, BB is about an arrogant but charming wedding videographer who thinks he is the last word in his work…till he meets a tough match in a character played by Amita Pathak (producer Kumar Mangat's daughter who debuted in Haal-E-Dil).
Apparently unlike other young co-actors who become the proverbial 'good friends', Amita and Pulkit were bickering and biting each other's heads off throughout the shoot. At first the 28-year old actor laughs and then says, "Yeah, we were behaving like kids. We would fight all the time. I would tease her and she would retaliate. But once the camera was on, all the chemistry, physics and biology developed between us." According to latest reports though, the two young actors are supposed to be dating, but Pulkit has denied it. And all the mixed stories indicate that the rumours are merely mediocre publicity stunts.
The Delhi-born and bred actor reveals that he looks drastically different in the film 'coz his director Supavitra Babul wanted it that way. Perhaps that's why not many realise that Bittoo is the same actor who was first seen in Kyun ki…? "Often my director would look at me and tell my make-up person, 'Usko ganda karo (make him look ugly)'," he says. "One of the reasons I had to go through several auditions for the film was because my director felt I was too good-looking for the part. Bittoo is this rugged guy from a small town and isn't sophisticated in his appearance." But Pulkit was determined not to give up; he reasons, "At last one door of opportunity had opened up!"
The TV-turned-film actor doesn't resent the struggle. In fact, quite to the contrary. "It looks like a struggle from your side, but not from mine. It looks quite exciting 'coz I got to experience so many beautiful things. And I have incorporated a lot of those experiences into my character in Bittoo Boss," says Pulkit. "I did Vaibhavi Merchant's Broadway musical 'Taj Express'. I had to act, dance and sing a little bit. And that experience gave me a lot of confidence and prepared me for films. In the meantime, I was also working my diction and my voice quality."
And it seems his patience and positivity are paying off. Apart from bagging the title role in a romantic comedy, Salman Khan – at the moment the man with the golden touch – is supporting the film in his own special way. Last week the superstar attended the music launch and made a lot of noise about the film. So did Salman actually watch Bittoo Boss or just help a friend's son (Abhishek Pathak) out? "He has seen the promos, but he really liked what he saw and my work," reveals Pulkit, "so I am doubly nervous – now he has expectations from me!"
Isn't that a good thing? We all know that whoever manages to grab Salman's attention goes a long way. And hopefully this is just the beginning of an eventful ride in B-town for the newcomer called Pulkit Samrat.
ALSO READ: Bittoo Boss gets a U/A certificate from censor board